Let's look into some of the cats in comic books in honour of our adopting two feline creatures — Percy and Ginny — this past month.
Cool cats, evil ones, heroic ones and cats just being cats — although they talk and play the sax — span the timeline of comic books. We're leaving the cats in the strips — like Bill, Hobbes and Garfield — for another day.
Before beginning the tour, let's arm ourselves with two words that people trip over — zoomorphosis, people taking on the persona of felines big and small, and cats taking on human qualities, known in literary circles as anthropomorphism — in an attempt to herd some of the key cats in comics.
Three early anthropomorphic cats include Tom from Tom and Jerry, Felix the Cat and Krazy Kat.
Krazy Kat by George Herriman first appeared in The Dingbat Family newspaper comic strip and is among the earliest mischievous felines in comics. KK appeared in his strips from 1913 to 1944 in newspapers owned by William Randolph Hearst. The strip — a slapstick love affair between KK and Ignatz the mouse who throws bricks at Kat's head, and Officer Pupp — was considered a work of genius by critics of the era.
Dell published five KK issues drawn by John Stanley, the artist of Little Lulu, in 1951, and Kat appeared in shorts in five issues of the publisher's Four Color series between 1953 and '56. There were several reprints in later years.
The very popular Felix the Cat by Pat Sullivan and Otto Messmer first appeared in silent movie theatres in 1919 and began appearing in newspaper strips in 1923. Some mouse named Micky started crowding him out when the talkies arrived. Felix didn't survive the talkies and faded away until 1953 on television with art by Joe Oriolo.
But Felix remained a major character in Dell's Popular Comics before publishing the character in its title. The rights moved over to Harvey Comics and the comic continued until 1965. Harvey also published Felix's Nephews Inky and Dinky.
Toby Press also published three issues of Felix the Cat and Friends in 1953 and '54.
They were followed by another cat who can talk, sing and play musical instruments with Tom and Jerry. The mischievous duo created by Hanna and Barbera in 1940 appeared in hundreds of animated shorts appearing in theatres and later on television. The characters garnered seven Academy Awards.
Their first comic appearance was in Dell Comics' Our Gang in 1942. When Our Gang was cancelled, the comic was renamed Tom and Jerry Comics. Western Publishing (Gold Key) took over the comic with issue 213 and continued until 1984 with issue 344.
Sylvester. What a guy. He shared the bill in two volumes of Tweedy and Sylvester printed by Dell and Gold Key between 1952 and 1984. They also appeared in Looney Tunes and Merrie Melodies comics.
Two titles to "be on the lookout" for with these characters: numbers 105, 106, and 107 came in sealed three-packs only in 1980; and the 1974 digest by Charlton/Xerox Publications, which had a low print run. I think the sealed packs and digest at a steal at the guide value of US$30 Near Mint.
A favourite among Disney collectors is the Aristocats (1971) with a pull-out poster and its reprint version a few years later in Walt Disney Showcase 16. But few know of the nine-issue run of the Aristokittens between 1971 and '75.
Let's move on to the heroic cats with publisher All-American, which later merged with Detective Comics to create National Periodicals, which published Wonder Woman 6 in 1943. This would become a key issue in the run because of the first appearance of the Cheetah.
Artist Jack Kirby introduced the Black Panther in Fantastic Four 52 in 1966, and the impact of the character in current films and comics can't be understated. The character had a sporadic publishing life, appearing as a secondary heroic figure in Marvel's titles until Jungle Action 5 in 1973. The character, of course, exploded onto the cinematic world in the 2018 film with Chadwick Boseman.
Marvel has another cat character, The Cat, created in 1972 by writer Roy Thomas and artist extraordinaire Wally Wood. She's not to be confused with the Movie Classics comic of The Cat or T.H.E. Cat, based on the TV show and both published by Dell. The Marvel version later mutates a la zoomorphosis into the vicious Tigra in Giant-Size Creatures 1 in 1974.
Catwoman — Batman's nemesis or lover depending on the year, but generally his Ying to his Yang — is a key character in the DC Universe. The character created by Bill Finger and Bob Kane first appeared as the Cat in Batman 1 in the spring of 1940. She was not used in Batman or Detective Comics from 1954 to 1966 because the now-defunct Comics Code Authority, a self-regulating censor board, restricted the portrayal of women.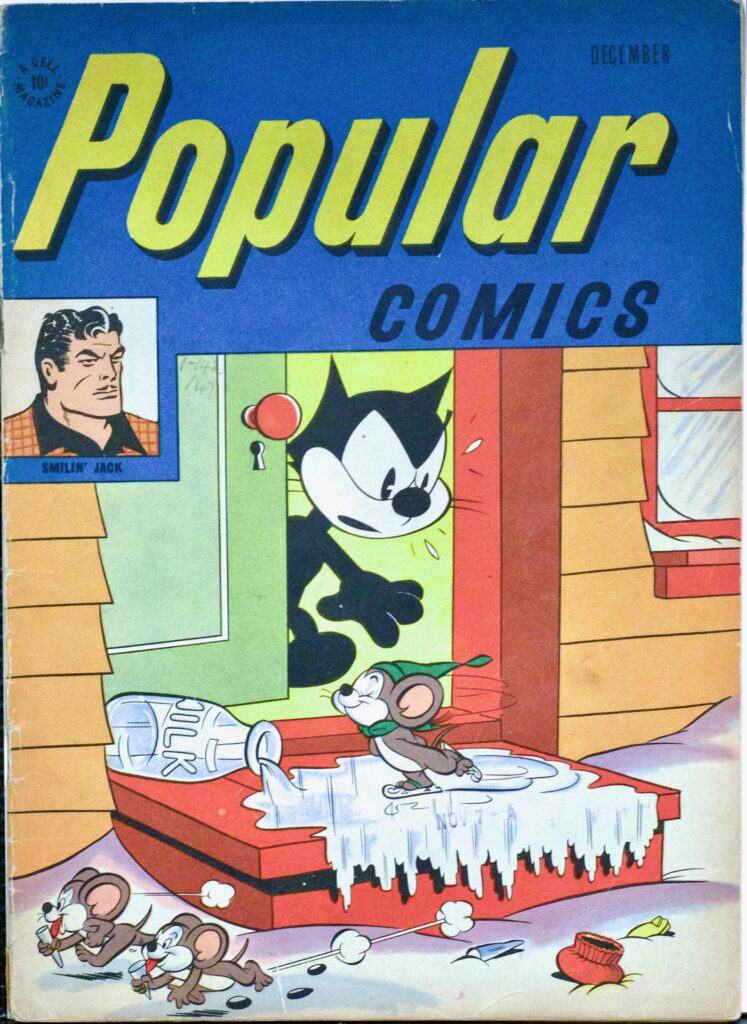 She reappeared in comics in Superman's Girlfriend Lois Lane 70 and 71 in 1966 during the height of the Silver Age and was bolstered by the "purrtrayals" by Julie Newmar and Eartha Kitt in the Batman television show and by Lee Meriwether in the 1966 movie.
During the Golden Age, a Catwoman would of course cause a creative storm at another publisher and create … Cat-Man.
His first appearance with sidekick Kitten was in Holyoke Publishing's Crash Comics 4 in 1940, months after Catwoman's first appearance. The title changed to Cat-Man after #6 and was sold to Continental Magazines in '44. Artists L.B. Cole and Alex Schomberg were among the greats who drew for the title. The stories were a product of their time, including the Second World War and one tale about the Weed of Doom known today as marijuana, available at almost every urban corner in Ontario.
Spider-Man had to contend with a cat burglar extraordinaire in The Black Cat and like Catwoman, she becomes a love interest for Peter Parker. Her alter ego Felicia Hardy is one to keep an eye out for, as Sony and others are deciding how to put her on a silver screen or television.
There are many we've left out, from That Darn Cat to Fritz the Cat. I don't expect Ginny and Percy to be anything like Cat-Man and Catwoman, but they're growing on our dog Riley, the tail-wagging rough collie. I fear the triumvirate will soon shake me awake one night with the howling sounds of a crazy sax and jazz piano quaking the joint.