Sunday March 19 th was a crisp and sunny day when I pointed my winter beater
Camry westbound and headed along Ottawa's Hunt Club Road to the Nepean
SportsPlex.
The parking lot in the rear of the facility was jammed full with new Ford Explorer
mainly Hybrid SUV Police Interceptors plus a smattering of older Police
Interceptor Ford Taurus sedans, all in Ottawa Police colours. That was the front of
the lot. In the back part there were more police Explorers, these ones in OPP
black and white, with the odd police Dodge Charger thrown in. Remember when
the cops all drove slant six Plymouth Fury 1's in the city and V-8 Dodge Polara's on
the highway? I'm having a dog dish hubcap flashback!
OK back to the story at hand before I am totally derailed here.
Show Organizer Doug Stroud did a fantastic job of assembling enough dealers to
fill Halls A and B of the SportsPlex, and even had overflow dealers in the hallway
leading in. Many dealers I recognised from past events like Ken Aubrey from Bank
Street South in Greely. The crowds came out too, it was wall to wall visitors and
many seemed to be spending. A wide variety of goods were on sale, all great
quality, ranging from Dinky and Corgi toy cars to Petrolia Oil and Gas
merchandise, G I Joes to Rock and Roll, or as they say in Rome, Rockus and Rollus.
All necessary staples that any self respecting man cave should have plus more.
There were also vintage Barbies and Kitchen Collectables to keep the missus
happy or at least occupied while the old man would be opening his wallet.
Since I was flying solo I was able to focus on the task at hand – car stuff!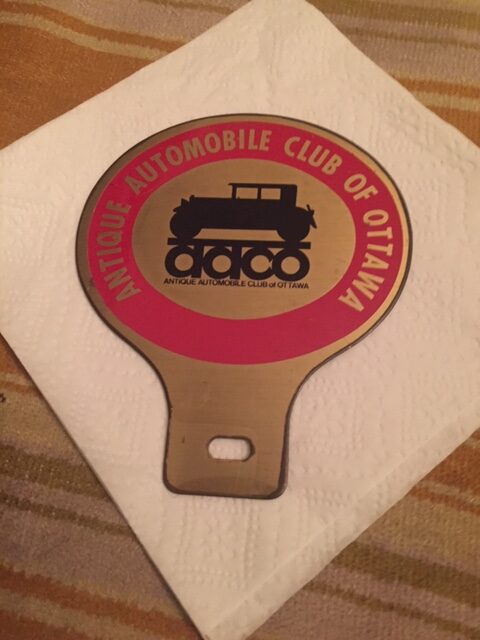 I purchased from long time local car guy Glen Robinson a terrific new old stock
Antique Auto Club of Ottawa bumper badge, now I need a vehicle to stick it on.
Also purchased from a very nice gent from Barry's Bay way was a beautiful "God Bless
this Camper" plate. Who knows, maybe there is a camper in my future. Will need
a new place to live if I keep on bringing more stuff home, says my better half.
Well, buy what you like is my motto, and it has gotten me this far in life!
A big hand goes out to Doug Stroud for organizing a very enjoyable show. Next up
for Mr. Doug is his Automotive Swap meet event down at Merrickville Fairgrounds
on Saturday June 3 rd .
Be there or be square!
Jonno
Jonno Stokes is the organizer of the Father's Day Antique Car Show at Billings Estate in Ottawa, this year
on June 18 th .