Auctions, they come in all shapes, sizes, and locations. It could be live at a country auction outdoors or online, virtually. It could be a house sale. It could be a private family auction in a house. Or a live auction, expectant bidders seated at an auctioneer's headquarters. It could be a city government auction of trucks and automobiles, for instance, Toronto police cars that were ready to be retired.
It could be a city auction, for example, Waddington's, in Toronto. Waddington's had a Cobourg division that sold cottage memorabilia. Times changed and their Cobourg division ended. They have Waddington's Collingwood and Vancouver.
From the 1970s, I have attended auctions in Toronto and through Ontario, acquiring over 50 catalogues and experience. These catalogues provide a visual record of contents sold. I have bought and sold antiques, more often, European and Canadian art works. The Group of Seven, Cornelius Krieghoff, and my favourite artist from England, Robert Alexander Hillingford (1828-1904). Invaluable.com results web site displays 79 auction houses that have sold a Hillingford painting.
I have dealt with Waddington's, Ritchie's, Sotheby's Toronto, New York, Bonhams at New Bond Street, London, England, Gardner Auctions, London, Ontario, The Auction Galleries, London, Ontario, Robert Deveau Galleries of Toronto, A. H. Wilkens of Toronto, Heffel Fine Art of Toronto, Walker's Fine Art and Estate Auctioneers Inc. of Toronto, Christie's New York and at South Kensington, England, and Adam Partridge Ltd. In Macclesfield, Cheshire, England.
Some auction houses thrive, then disappear. Others carry on seemingly forever. Waddington's has enjoyed 172 years. From 1962, Ronald McLean was the exciting auctioneer there, entertaining audiences for years. Some firms merge and change, from Year 2001, to Joyner-Waddington's for a while. Joyner was about art, and then Waddington's moved away from furniture and focused more on art and silver, glass, and porcelain. It was an ideal marriage. Then it was back to "Waddington's", King Street East in Toronto.
What kinds of auctions? Some houses sell every type of antique, from glass to silver, porcelain, and furniture. Others concentrate on art, generally, or focus on Old Masters, Asian, European, Canadian, or Modern art. Still others do sculptures, carpets, vintage clothing and fashion, coins, stamps, or ephemera, as in, books and manuscripts, maps, postcards, and documents.
Some rural auctions sell farm equipment such as tractors and ploughs, wash tubs, and kitchen items such as wooden spoons, a cast iron skillet, or pots and pans. Others sell antique cars or varnished Muskoka boats, and sailboats. For items not easily found, some auctions sell contents of a vintage business that went bankrupt or from the owner who retired. When antique stores close or when inventory is moved, contents have been auctioned, often regretfully.
Real estate agents can organize an estate home auction. This is usually an exciting time for heritage enthusiasts. Museums and galleries have been known to sell a painting at auction in order to raise funds for expansion or improvements. Used bookstores have done the same. Special collections by lifetime collectors can arrive at an auction. These are once-in-a-lifetime opportunities to acquire unique assemblies of priceless objects.
Auction houses also have anniversaries or themes, for example, a special year in Canada. On June 27, 2017, Waddington's held "The Canada 150 Auction" about our history. Recently, auctions have supported Ukraine in their battle against Russia. Auctions might mark a day when contents have meaning such as the death of Sir Winston Churchill.
And, of course, there are sports memorabilia and collectible auctions. They offer everything from sports cards, to home run baseballs, autographed hockey sticks, sweaters, and goalie equipment. It goes without saying, authentic signatures are key. And verified provenance. "Where did you get this?" is a frequent question.
There are 'how to run an auction' and 'how to become the great auctioneer' manuals and courses. I feel the best approach is hands on experience. Auctions can reveal the cycle of passion for antiquities, the demand for collectibles, and the value of antiques and art. Is it the right time to sell heirlooms? There's never a perfect time but there may be a favourable time of year. Sometimes, luck and fate dictate the result. What about the magic and mystery? One seldom will know who purchased art or a cherished antique. This is an age old rule to protect the buyer and seller. Wealthier collectors go to extreme lengths to ensure privacy. They employ agents to represent them with instructions on limits. But once their collection is known, it becomes the cause of speculation. Did Susan or John purchase that? If society already knows he or she has over 50 of the same artist, he or she might have bid on "the next one".
Traditionally, live auctions have bidders seated in a room, crowds standing up, looking to buy, catalogues and numbered 'paddles' ready. A bank of phones and staff field calls from anywhere in the world. Remember to do your homework, attend a live preview if you can, ask the specialist for a look at the antique you're interested in.
For years, live auctions, with phone bids, were the extent. More recently, you see a bank of laptop computers with staff responding to bidders, online. Auctioneers have a larger job. "On the phone, we have…" has become, "And on the computer, then on the phone, and, here in the auction room, we now have." At least three bidding sources.
Auction houses discuss age, condition, and value, and agree on a pre-auction estimate. I've done my research (auction sales, antique shows, stores) on paintings and antiques to determine what the marketplace will bear. This is valuable for me and it can be useful to a specialist in setting a price range.
Some sellers establish a reserve. This means an antique will not be sold unless it meets that minimum price bid. Some auctions do not have reserves and with this policy, there is the risk that an item may be sold at a reduced cost.
What about percentage commissions for auction houses? Commission charges have evolved. Antique dealers get a price break at some auctions, reduced commission, because they're in the business. A purchaser or seller must weigh differences. Should a collector wait until an object is found at an auction or can it be bought or sold at an antique shop? Should he or she wait until there is a private sale offered? Or wait until there is an antique show? Or found at a consignment warehouse? Or at an estate sale?
Different commissions are at each type of facility. Consignment stores sometimes take up to 50%, a considerable sum. They have taxes, heat, water, and lights to pay for. And staff salaries. At times, a loyal customer of an antique store negotiates the consignment price. Private sales might garner a lucky break between seller and buyer, and no tax (the dealer absorbs the tax). Is this an urgent sale? Is the person moving, downsizing, or retiring? Circumstances affect the transaction. These factors should be evaluated.
On line sites such as The-saleroom.com charge up to 30% commission. If you bid directly from A.H. Wilkens, for example, and not via LiveAuctioneers.com (third party), buyer's premium and seller commissions are about 10% to 20%. Percentages can be on a sliding scale, depending on the value of the items. For proxy (absentee bids) or phone bidding, people can be charged an extra 3% 'proxy premium'. One outlet wanted an additional 1% commission if the bidding went beyond the estimate range for a Group of Seven. I thought, surely the seller deserves a reward. I negotiated removal, and the firm paid for a giclée. There are nuances but auction houses must charge and account for taxes.
I organized a contents sale for a friend in Year 2021. I chose MaxSold.com, their 'seller-managed' auction. I researched, photographed, and described each antique, involving six months and 200 hours. In mid-December, I sold 200 lots (furniture, glass, porcelain, art), obtaining $4,000 net sales. The downside of firms like MaxSold is there is no reserve and no minimum. Each item starts at zero, regardless of value. There was a hefty 30% commission, even though I had everything itemized and posted. Sadly, some
Bohemian crystal vases sold for almost nothing. Other contents surprised and so it averaged out. It opened my eyes about online auctions and operators. You must do your homework before selecting a firm. If you can, attend a sale and ask questions. For instance, we stayed away from a Christmas Day auction when buyers are shopped out.
David Zammit of Bernardi's Antiques at 699 Mount Pleasant Road in Toronto, whose dedicated family (parents Grace and Paul, and David's wife Laura) I've known for 35 years, comments on the immense growth online: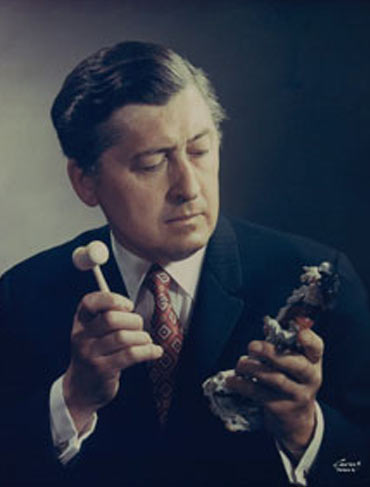 "I think the ability to bid online for live auctions has really opened up auctions to anybody, anywhere, at any time. With that, however, the amount of auctions online has grown so much that it may have spread them too thin. There are auction papers dedicated to listing auctions and every week there seems to be hundreds of weekly auctions."
Regarding value, David said: "I think it's made regular antiques priced lower as there are so many middle-of-the-road items out there online. But rarer and higher quality items seem to fetch good prices as that's what people are after and are willing to pay a premium for."
Auctions yield exciting moments — the laughter, the buzz in the room, anticipation, and loud applause at a record breaking sale. At live auctions, you can socialize with friends, collectors and dealers, to see the real thing, and educate. Some have never chosen online auctions. They prefer to see the antique, up close.
"All images from Richard MacFarlane's private collection of auction catalogues"