By Mike Smith
With winter weather having already pounded some parts of Alberta, and snow in the forecast for other parts of the country, I figured it was time to showcase some of my favourite winter-themed postcards. Since Canadian winter sports and other cold-weather activities were great fodder for postcard publishers during the golden age (1900–1914), it didn't take me long to dig out some nice examples. Three of the publishers I'll be talking about here are London, England's Raphael Tuck & Sons, Dundee, Scotland's Valentine & Sons, and Aldershot, England's Gale & Polden.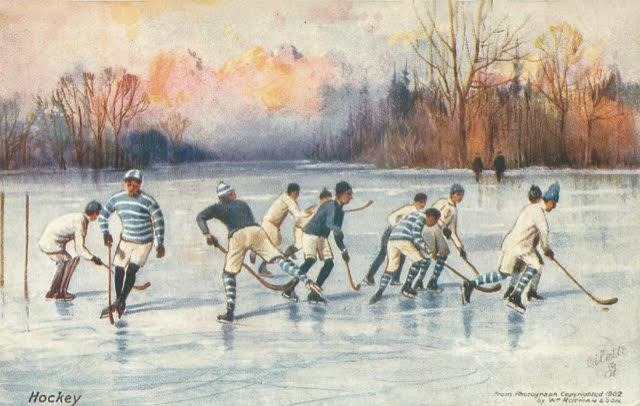 Without a doubt, some of the most beautiful postcards ever printed in the early 20th century were made by Britain's Raphael Tuck & Sons. This firm, which in the years before the advent of the postcard had received a Royal Warrant from Queen Victoria for its fine greeting cards, became one of the world's leading postcard publishers once private postcards were authorized in Britain in 1894. Adolph Tuck, son of company founder Raphael Tuck and managing director of the firm in the heyday of the postcard, was also instrumental in persuading the British Postal Authority to increase the size of British postcards to the European standard of 5½ in. by 3½ in. Until this change, British postcards were restricted to 4½ in. by 3½ in. These smaller postcards were called "court-size" and had very little room for images or artwork. For his perseverance, Adolph Tuck was given advance notice of the date when the larger size postcards could be legally sold in Britain. On that memorable date, 1 November 1899, Tuck postcards were the first out of the gate with the extra inch. In picture postcards, size matters!
The key to Tuck's continued success in the postcard business was not only due to the quality of the firm's printing, it was also due to the many talented artists it hired to design its postcard sets. Harry and Arthur Payne, Lance Thackery, Norah Drummond, and R. Caton Woodville were just some of the artists commissioned by Tuck to help launch the now famous "Oilette Series" of postcards in 1903. As the name implies, Oilettes were high quality postcards reproduced from original oil paintings. They were usually issued in numbered sets of six cards. Three of the six cards from Tuck's "Winter Sports – Canada" set are show as Figures 1, 2 and 3 respectively.
For the record, popular Tuck postcard artist Norah Drummond (1862–1949) married a Canadian and emigrated to Alberta early in the 20th century. In Alberta, she provided painting and illustration lessons to Peter Whyte, who with his wife Catherine, became the inspiration for the Whyte Museum of the Canadian Rockies in Banff.
Valentine & Sons of Dundee, Scotland was another British firm that reached iconic status during the postcard's golden age. The firm printed its first postcards in Britain in 1898 and in 1903 sent agent George Clark to Montreal to open its first overseas branch office. Clark established a business relationship with the Canadian Pacific Railway (CPR), who gave him free use of the thousands of photographs taken from coast to coast by the CPR's advertising department. In short order, another Valentine & Sons branch office was opened in Toronto.
Not to be outdone by that fancy-schmancy Tuck firm in London, Scotland's Valentine & Sons hired its own bevy of artists and illustrators to create images for its "ARTOTYPE" and other artist-signed postcard series. One of the artists employed by Valentine & Sons was Montreal-born C. W. Simpson (1878–1942), whose paintings and illustrations now hang at the National Gallery of Canada. One of Simpson's postcards from Valentine & Sons "Canadian Child Studies" series is shown as Figure 4.
Finally, any collector of patriotic and military postcards (like me!) will be eminently familiar with Aldershot, England's Gale & Polden. Although this firm produced oodles of postcard sets, it's mostly known for its "History and Traditions Series," which depicted all the regular regiments and corps of the British Army at the time. Thankfully, Gale & Polden also made postcards of British Empire military units, so Canada is well represented. The Figure 5 postcard, for example, is a Gale & Polden gem depicting Canadian troops in a winter scene by artist Harold Piffard (1867–1938). The numerous and very attractive Gale & Polden Canadian military cards will be the subject of a future article. Stay well!

Mike Smith is an RMC Graduate (Class of '77) who has been an avid collector of Canadiana for most of his life. His current passion is collecting and writing handbooks on antique postcards. Mike is currently working on his 16th handbook. Please visit MikeSmithBooks.ca for details on all his titles.