by Roddy Sergiades
Many of us are consumed by the digital age, where almost everything can be had at just the touch of a button.
Online shopping reigns supreme through mobile apps, despite its detrimental drawbacks of increased carbon emissions and 'fast-fashion' returns to the dump. The romance of traditional department store shopping is but a  memory for most, save the efforts of The Bay.
Yet it was not too long ago when we lived in a more measured age, where buying in store or through the mail was the order of the day. Taking the time to head down to Yonge and Queen streets in Toronto, or elsewhere, to shop with friends at Eaton's and Simpson's was often an excursion not to be missed.
For those of us more suited to rural or small-town life, or just looking to prep for the big downtown shopping trip, the Eaton's and Simpson's catalogues were our lifeline to the latest trends. 
Coupled with the "You'll enjoy shopping at Simpson's" moniker or "Goods satisfactory or money refunded" slogan from Eaton's (which was copied in spirit by almost every American retail chain), ensured both firms countless custom.
Following on the heels of the Hudson Bay Company's first catalogue in 1881, Eaton's began publishing its mail-order catalogue in 1884, one of the first Canadian retailers to do so. That first edition was a 32-page booklet handed out at Toronto's Industrial Exhibition (now the Canadian National Exhibition). Just 12 short years later, and with the Long Depression of the 1870s largely a bad memory, Eaton's found itself filling over 200,000 orders annually, while reeking havoc on many small-town general stores courtesy of its catalogue. The store that Timothy built even offered gifts to those providing contact information of 'non-subscribers'.
Beginning in 1893, upmarket Simpson's launched its first catalogue, an 82-page magazine focused on women's hosiery, drawers and jackets, men's ties and valises, and plenty of fabrics and perfumes to tie it all together.
As the catalogues and those of their regional competitors, including B.C. and Alberta-based Woodward stores' (published: 1897-1953), caught on the offerings expanded were no longer mostly clothing. Farm tools, china, books, furniture, kerosene or gasoline-powered washing machines (for rural folk without hydro in the 1940s and earlier), and even whole pre-fabricated houses were now just a postage stamp away.
The catalogues themselves were becoming more sophisticated. Eaton's replaced its text-only editions in just three years, added colour in 1915, and photographs a year after the The Great War. Since 1910, those residing in Northern Ontario and other areas of French Canada, could order all and sundry through the French Eaton's catalogue. With the increased trade, Eaton's added mail-order offices to Winnipeg in 1905 and Moncton in 1918 to supplement their lone Toronto operation.
By the 1940s, Simpson's catalogues were easily exceeding 300 pages and were almost Life-magazine like in their size. In 1943 their mail-order division alone employed over 1,000 staff, no doubt posting the comforts of home to the boys overseas. There were 149 order offices across the Dominion, 298 delivery trucks, and 66 horses. The latter in great demand due to war-time imposed rationing of gas and rubber (tires). Simpson's switchboard operators received two million phone orders annually, in a country of just 12 million people.
Their Spring and Summer 1941 catalogue announced: "A Great City Store in Your Home!" which advertised a bigger farm and dairy department. Alluding to the war, the catalogue adds a double entendre: "Marches on into spring".
It featured for "sleeping beauties", Butcher Boy pyjamas, "Happy Change Abouts (clothing) for teen agers" (sic), women's shoes with Crystal Heels, as well as car batteries and tires, rowboats, and horse collars.
In 1951, Simpson's mail-order revenue was a whopping $100 million, which attracted the attention of Sears, Roebuck and Company, the largest department store chain south of the border. This new partnership resulted in the first Simpson's-Sears catalogue, in February 1953, which included live baby chicks and Geiger counters.
With the dawn of the '50s, Eaton's of Canada was already publishing twice yearly even larger sized catalogues of over 500 pages, and special editions, including Christmas. That year's Spring and Summer catalogue highlighted "Practical togs for active lads", Light-Hearted Frocks, women's casual shoes from $5.95 a pair ($57.24 today) to rugged longers (boy's trousers). Aside from clothing, this catalogue advertised silverware, watches, and the Eaton Budget Plan for orders of $15 or more. On the latter, the catalogue states: "you pay the Eaton Low Price, plus a reasonable charge for the accommodation", in the pre-credit card era.   
In the midst of the baby-boom and tremendous economic expansion, 1955 may have been the pinnacle of this staple of Canadian retailing. That year, Eaton's boasted four mail-order warehouses nationwide, four factories (when they and their competitors often produced goods in-house), and 299 mail-order bureaus.
In the post-war era, until their catalogue's demise in the 1970s, it was almost possible to buy everything the two titans of Queen Street offered through the mail or by phone. Of course, Canadians being a practical people, saw other advantages to these much consulted 'journals', including their use as hockey shin pads, home insulation (which many a renovator in recent years has turned over), and — outhouse use. The Eaton's catalogue was even used to teach literacy by some educators.
Despite the very prosperous 1960s, 1965 saw Eaton's reduce the 'book' size, even with 336 catalogue outlets, and now found itself realizing a catalogue profit only in Western and Atlantic Canada.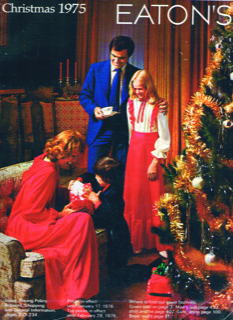 The following year the baby-boom ended, and by 1973 its flagship endeavour had lost $17 million that year. When January 1976 rolled around, the Eaton's catalogue was sentenced to the dustbin of history, with the Spring & Summer 1976 edition being the swan song. Now similarly sized to Maclean's magazine, it still sported a huge 700 pages full of pin-dotted polyester curtains, feature-packed, portable manual typewriters, and rebuilt car engines.
The Simpson's-Sears catalogue wasn't far behind, as it hung up its skates in 1978 by transforming into a Sears-only book. Yet as late as 1971, it featured over 50,000 goods, including black and white TVs, contained 736 pages, and saw two million copies distributed in English and French. There were 553 catalogue-order offices to keeps sales humming.
In inflation-adjusted dollars much inside the Eaton's and Simpson's catalogues' were noticeably more pricey than what the gigabyte economy produces today. Yet much less costly, as these goods were usually of much higher quality, often manufactured by your neighbour, resulting in a much lower carbon footprint and a more equitably prosperous society. The digital era has exchanged quality and leisure for quantity and expediency, but these relatively common mail-order catalogues of yore can still fill our hearts with warmth and longing for the good old days.