By Mike Smith
Putting together this article was great fun for a number of reasons. First, the subject matter was suggested to me in an email from Susan Anderson, the granddaughter of the postcard publisher the article's about. This meant that I could avoid one of the hardest parts about writing a postcard story for the Wayback Times – coming up with a good idea. Second, this is a story about an important Canadian postcard publisher that I knew nothing about. So, in addition to adding a new publisher to my knowledge base, I was introduced to some terrific Muskoka postcards. Third, Susan Anderson sent me a short biography of her grandfather written by his son and her father, William Everritt Willmott Anderson, in 1995. In other words, the research I needed was handed to me on a silver platter.
William Alfred Anderson (see Figure 1) was born at Skipton, England in 1880. In his early 20s he took up photography before immigrating to Canada in 1907 with one of his younger brothers. The two Anderson lads had intended to settle in British Columbia but on the voyage over were persuaded to visit the great natural beauty of Ontario's District of Muskoka by a friend of Edward Prowse. Prowse was an English immigrant himself who had built the iconic Beaumaris Hotel on Tondern Island, Lake Muskoka in the late 19th century. His brother-in-law was John Willmott, another important Muskoka pioneer and entrepreneur. These two men had purchased Tondern Island in 1873.
No doubt William Anderson's photography background was a factor in convincing him to check out Muskoka. And once he saw it, he was smitten. In short order he set up a photography business in a space Prowse rented to him at the Beaumaris Hotel. With the summer tourist business flourishing due to the influx of well-heeled Americans, in 1909 William Anderson married John Willmott's daughter, Frances, and built a house and photographic studio in Beaumaris.
Before the First World War (1914–1918) William Anderson had taken a significant number of very good photos in and around the three Muskoka Lakes (Lake Muskoka, Lake Joseph, Lake Rosseau) as well as the Lake of Bays district. He turned many of these photos into sepia-coloured and colour-tinted picture postcards for the summer tourists. After the war, he found a printer in Germany who could reproduce all his postcards in rich colour. As a result, "Anderson's Muskoka Series" and "Anderson's Lake of Bays Series" of postcards were gobbled up each summer thereafter (see Figures 2 through 5). 
Here's one of the more interesting items in the William Anderson postcard story. Instead of sending photographs directly to his printer, which as far as I know was the norm, he had copper engravings of his views made in Toronto, mounted on a hardwood block and then shipped to Germany. So on top of the excellent photography, there's an additional Canadian component to the high quality of Anderson's postcards.
Over the years William Anderson produced at least 250 different Muskoka view postcards, importing them by the hundreds of thousands from Germany for the tourist trade. Each spring as the cards arrived from overseas, he would go up the lakes in his boat and take orders from all the hotels, lodges, towns, etc. He would then do the same thing in the Lake of Bays district using his car. Back in Beaumaris after these sales trips, Anderson packaged the orders with the enthusiastic help of his children and their cousins. The packages were then shipped by steamboat all over the lakes, and sold to eager customers at two for a nickel.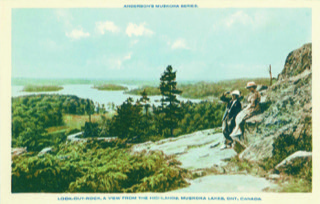 With the annual postcard shipment dispersed, Anderson would spend the rest of the summer involved in his normal photography business. He was often commissioned to photograph people's boats, summer homes, yacht club functions, etc. On one occasion just after the First World War he was asked to take some aerial photographs of a floatplane pilot's Muskoka property. Any concerns Anderson had about flying in this particular plane would have vanished once he learned that its pilot was none other than Canada's Billy Bishop, V.C., the greatest flying ace of the war! This flight with Billy Bishop was something that Anderson would boast about ever after.
Two significant events, one very dark and one much brighter, occurred in William Anderson's life just before the Second World War (1939–1945). His successful postcard business sputtered in 1936 when he lost all communication with his German printer. As it turned out, the printing firm was Jewish and Adolf Hitler shut it down. On a much brighter note, during the 1939 Royal Visit to Canada by King George VI and Queen Elizabeth, Anderson was commissioned to produce a presentation album of Muskoka photographs for the royal couple. The album, A Photographic Glimpse of the Famous Muskoka Lakes, is currently part of the Royal Photographic Collection at Windsor Castle.
With his German printer gone, William Anderson had some postcards printed by Ottawa's Photogelatine Engraving Co. but they were pricier and of lesser quality. He made his own real photo postcards for a while, but when the war started he shuttered his postcard business. Fortunately for collectors, the high-quality, colour Muskoka view cards he produced until the 1930s are a joy to behold.