By Mike Smith
Thank goodness for hobbies! Although the lack of postcard shows during this COVID period has been exasperating to say the least, I have managed to cheer myself up a little by updating earlier versions of my postcard handbooks. My current project, which is on well-known Toronto publisher W. G. MacFarlane, nears completion thanks to the help I received from postcard club members across Canada. One of the most important contributions to the new handbook came from the Toronto Postcard Club (TPC) website. There, thanks to the sleuthing skills of Ken Elder and Andrew Cunningham, W. G. MacFarlane's biography has been completely updated and revised.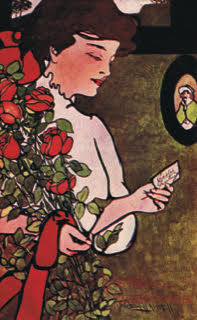 By all accounts, W. G. MacFarlane was a wunderkind. Born in Fairville, New Brunswick (now part of Saint John) on 28 December 1870, by his early 20s he was an established New Brunswick author and newspaper editor. After obtaining a master's degree in economics at Acadia University in Wolfville, Nova Scotia, and doing post-graduate work at Harvard and Columbia Universities in the USA, he moved to Toronto around 1900 to publish souvenir view albums. Achieving great success in that venture, it was only natural that MacFarlane would wade into the postcard trade in 1902. Five years later, his success was such that his firm was known as "Canada's Largest Post Card House." And many of his most successful postcard series were artist-signed (see Figure 1).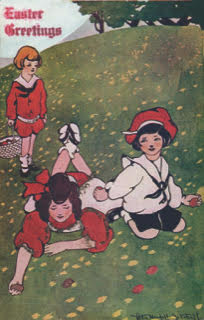 Now I'll reveal the most significant little nugget in the revised W. G. MacFarlane story. Artist-illustrator Sadie Wendell Mitchell, whose golden age (1900–1914) postcards are prized by collectors everywhere, was actually the youngest of W. G. MacFarlane's four sisters! Born Sadie Wendell MacFarlane in Saint John on 25 November 1883, she became Sadie Wendell Mitchell in 1904 when she married artist George Harold Mitchell in Toronto. She and her new husband moved to New York City (his hometown) in 1906, where she studied at the New York School of Art, as well as the Erie Pope School in Boston. By 1907, her impressive artwork was being reproduced as postcards by her older brother in Toronto (see Figures 2, 3 & 4). 
In addition to providing the wonderful artwork for at least seven of W. G. MacFarlane's most popular postcard series, Sadie Wendell Mitchell was particularly well known for her portraits of children, and her illustrations in children's books. She also did artwork for Scribner's and McCall's magazines, for numerous commercial accounts and exhibited at New York City's Art Director's Club, The Society of Illustrators and the National Academy of Design.
Although Sadie Wendell Mitchell's style is very recognizable, there is some confusion in identifying this artist on postcards because of the various signatures she used. After her marriage to George Mitchell, she adopted the signatures "Sadie Wendell Mitchell," "Brownie Wendell Mitchell" (see Figure 5) or simply "B. Wendell Mitchell." Regardless of how she signed her name, it would be hard to find any artist-signed postcard collector, or art lover for that matter, who didn't admire her talent.
And now back to her brother. In 1905 W. G. MacFarlane opened branch offices in the US and Europe. By 1907 he was publishing an enormous quantity of postcards for sale on both sides of the Canada-US border, including the popular Sadie Wendell Mitchell series. Alas, it was the American market that finally clipped his wings. W. G. MacFarlane had overextended himself down south and when the postcard market sputtered in 1908, he was forced into bankruptcy. It must have been quite a blow as three years earlier the August 1905 issue of Bookseller and Stationer magazine said this about him in a glowing article, "As an apostle of the postcard in Canada, Mr. MacFarlane occupies a foremost position."
It certainly would have been a thrill for collectors at the MacFarlane bankruptcy sale. According to the May 1908 issue of Bookseller and Stationer, "Over $20,000 worth of high-grade view cards of all the principal Canadian cities and towns and a large assortment of fancy lines and view books could be purchased at cost and less than cost." Since the wholesale price of most postcards back then was less than a penny each, heaven only knows how cheap they would have been at cost or less. Oh, those "way back times."