By Mike Smith
Some of the most attractive postcards published in Canada during the golden age (1900–1914) were those that collectors often refer to as "fancy greetings." For example, postcards were specially made and marketed by publishers each year for the Christmas and Easter Seasons, Valentine's Day, St. Patrick's Day, etc. Perhaps because of competition from printers who made regular bifold greeting cards, many postcard publishers went all out with respect to the design, colouring and overall quality of their fancy greetings. Since this Wayback Times issue will be in circulation during the Easter Season, I'm going to showcase some of my favourite Easter greetings in this article.
The postcard shown as Figure 1 was published by Brantford, Ontario's Stedman Bros. around 1907. The first time you see a card like this you wonder how it could be made cheaply enough to turn a profit for its maker. There's delicate embossing, an add-on metallic Easter egg cart pulled by chicks, and a silver-like finish infused with a pattern. Since I've seen contemporary advertisements offering cards like this for as little as 70 cents per hundred, one has to assume that the money was made in volume, not price. Even for today's collector, these cards are relatively inexpensive. For instance, I rarely pay more than $5 for a fancy greeting postcard like this at shows. And I once picked up 10 of them for $25!
The Figure 2 postcard is heavily embossed and is known as an airbrushed card. For years, I described cards like this simply as embossed novelty cards. My re-education came while perusing a 1908 Stedman Bros. wholesale catalogue which advertised a series of highly coloured, heavily embossed postcards as "Airbrush Work." Technically speaking, the word airbrush refers to an air-operated tool that sprays paint, ink, dye or other media. This is how many embossed postcards had to be coloured as applying colour via the printing presses would flatten the embossing. I'm still not sure if the airbrushing was done by man or machine, but I understand the concept.
As for Figure 2, this is actually a Warwick Bros. & Rutter, Toronto product. Thanks to a decades-long mission by the Toronto Postcard Club's Bill Buchanan to collect and record every Warwick Bros. & Rutter postcard imaginable, we now know that at least 80 airbrushed postcards were published by this firm. I'd have to say the card is "eerily attractive" as an Easter greeting with a black background is unusual to say the least.
Although I typically collect golden-age postcards from Canadian publishers, there are a few British and American publishers I really admire. Across the pond, there's London's Raphael Tuck & Sons, whose postcards I've showcased in more than one Wayback Times article. Another London publisher I really like is Birn Bros. This firm published oodles of spectacular Canadian patriotic postcards under the "B.B. London" trade name.
South of the border, I'm a big fan of New York's John Winsch, who rose through the ranks to become co-manager of the Art Lithographic Publishing Co. in 1907. Beginning in 1910, Winsch started copyrighting his own artist-signed greetings postcards, most of which were printed in Germany. Because of the print quality and excellent artwork associated with so many of his cards, Winsch has a huge following among US collectors. His Halloween and Thanksgiving postcards are particularly popular, and for this reason can be ridiculously expensive. For instance, I saw one of his Halloween postcards in an ebay "buy it now" listing that was priced at $500! Many Winsch greetings postcards are reasonably priced however. Two examples are shown as Figures 3 & 4.
The Figure 5 postcard is another wonderful Stedman Bros. collectible. I don't know what it is about Stedman Bros. but this publisher loved to issue postcards with metallic "add-ons." In the handbook I authored on the firm in 2019, I listed more than 200 different postcards with metallic add-ons of all types. And since then, collectors have alerted me to many more!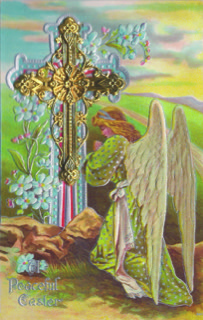 In the card shown here, Stedman Bros. has made a fancy metallic crucifix the focal point of a postcard with a praying angel and a caption that says, "A Peaceful Easter." Considering all the turmoil resulting from the COVID-19 pandemic, I can't think of a better way to close this article than to wish every Wayback Times reader a peaceful Easter and good health.
---
Mike Smith is an RMC Graduate (Class of '77) who has been an avid collector of Canadiana for most of his life. His current passion is collecting and writing handbooks on antique postcards. Mike is currently working on his 16th handbook. Please visit MikeSmithBooks.ca for details on all his titles.