By: John C. Carter
Foreword:
Before starting to read Greig Stewart's new book, there were a number of questions that I felt were necessary to ask, and then answer. Firstly, was there a need for a publication explaining how rock and roll invaded Canada? To try and answer this question, I looked at the extensive bibliography of over 125 titles which the author had consulted and listed. Amazingly, there were only 21 entries which had any Canadian connection, the most recent being from 2015. This answered my first question; yes the book would be a timely and welcome addition to this genre of literature.
Secondly, what qualifications/past experiences did the author have to write it? Greig Stewart's first book, Shutting Down the National Dream; A.V. Roe and the Tragedy of the Avro Arrow, was the winner of the National Business Book Award, and the basis for CBC Television's popular docudrama, The Arrow. Stewart also had a background in the rock music business. From 1966-68, he was the drummer for the Toronto band The True Image. Laterally, he was deeply involved in the fields of arts, culture, heritage and tourism. Between 1981 and 2011, he worked for 30 years as a field consultant for the Ontario government. Seems like a good pedigree to write a book on the history of Canadian rock and roll!
Thirdly, how would new evidence be uncovered to add to existing literature in the field, and to help prove the author's thesis? During an eight year period while researching and writing his book, Stewart conducted over 100 personal interviews. These were with individuals who were intimately involved with or participated in the Canadian music business of the time. Some of those interviewed included Bobby Dean Blackburn, Ray Hutchison, Dave Marsden, Red Robinson, Ronnie Hawkins, Duff Roman, Doug Chappell, Buddy Burke, and others (see Notes at the end of Stewart's book for the entire list). They all provided intimate and insightful knowledge of their involvement in and contributions to Canadian rock and roll. Third question answered. Now it was time to read the book.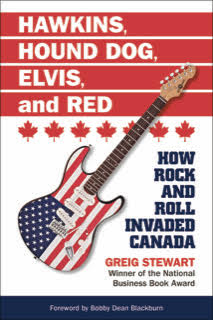 The Book:
The central thesis of this publication focuses on what Greig Stewart believes to be a critical window in the evolution of pop music in Canada. A twelve year period from 1951when the term "rock and roll" was coined, to 1963 when a Toronto band, Richie Knight and the Mid-Knights song "Charlena" became #1 hit on the CHUM Chart. Stewart believes that this event constitutes a seminal time in the development and progression of rock and roll in Canada. The author moves chronologically from the 1950s through to 1963, to document a fascinating, yet not well known story. This time-travel provides a glimpse at how rock and roll invaded Canada from the United States, developed a home grown component, and set the stage for the British Invasion of the 1960s.
The Foreward written by Bobby Dean Blackburn, presents a brief reflection from a pioneer of the Canadian rock and roll music scene. The author's Introduction, provides a helpful, and succinct overview of the 15 chapters and the 338 pages of text. My synopsis of the book follows.
The ensuing story starts when black music from the southern U.S. states began moving north, and was embraced and adopted by many white teens. Radio stations facilitated this change, and the number of these outlets grew rapidly, influencing many listeners. The impact of disc jockeys, with the rise of personalities such as Alan Freed, "Hound Dog" Lorenz, Dick Biondi and Dick Clark, and other flamboyant characters in various U.S. cities. A young, Red Robinson was one only of a few DJs in Canada of the period, to join this wave. They all helped to bring rock and roll to eager ears of Canadian teens. These men had a certain amount of power and influence behind their microphones, and music that they played became a strong link between teens and DJs. The rise of television was thought to be a threat to radio, but such did not happen. After a dip in popularity, rock and roll provided a transfusion to radio in maintaining its popularity.
"Payola" was a term coined by Variety Magazine in 1938. It was a scheme connected to gifts, favours or cash given by record companies to DJs, who, in return, would play their music. This had a critical effect on what records were played. In 1950, Billboard Magazine reported that payola to disc jockeys had hit an all-time peak. The introduction of the Top 40 format by Todd Storz, greatly reduced this impact, as DJs were limited to play mostly songs listed on the Billboard chart. Payola had a huge impact in the USA, but because the Canadian record market was so small, a minimal one here.
By the mid 1950s, white, teenage, middle class boys "became a nascent market for black influenced rock and roll." Many owned or had the use of cars with radios, and local hangouts with jukeboxes brought more rock and roll to these teenagers. By 1955, 45rpm records had mostly replaced 78s, and jukeboxes played more than 50 million records by then. Portable, transistor radios became accessible and popular by 1960, when more than nine million kids had one. This resulted in music becoming "the heartbeat of the new youth culture", and rock and roll was dependent upon this culture.
In Toronto by the spring of 1955, cars packed with teenagers began to congregate at locations around the city where American night-time radio shows could be clearly received. George Lorenz at WKBW in Buffalo, New York, became one of the favourites. In Canada, Buddy Burke formed a band called the Canadian Meteors in 1957. They played venues in and out of Toronto. Burke wrote and recorded songs for "Hound Dog" Lorenz, and released his first record in November of that year. It hit the top 40 on CHUM, and was also promoted and played by rival radio station CKEY. Quite an accomplishment for a Canadian written and performed rock and roll song!
Another important influence in the late 1950s, were live rock and roll shows. Alan Freed and George Lorenz worked with Canadian booking agents to set up these travelling concerts, and hosted these events. They were wildly popular and featured up and coming and bona fide rock artists who were packaged together into one giant show. At least two of these were offered at the Kitchener Auditorium in 1958. The first was Alan Freed's "Big Beat," which featured 17 top recording attractions, and was presented on April 11, 1958 (see image of promotion poster).The second, was held in October of that year. Headliners in that packaged extravaganza included Buddy Holly and the Crickets, Frankie Avalon, Bobby Darin, the Coasters, Dion and the Belmonts, Clyde McPhatter, Jack Scott, Little Anthony and the Imperials, and six other less known American rock and roll artists of the time. Some smaller concerts were also notable. In 1954, Frank Motley and His Motely Crew travelled from the southern United States to perform concerts in Toronto. They were one of the first all black groups to do so. An important home grown influence was Harold Kudlets, a music agent from Hamilton. In 1957 he booked Conway Twitty to perform there. He also promoted other southern U.S. acts who played in Hamilton, and in a circuit of venues in southern Ontario. In the spring of 1958, he brought in Ronnie Hawkins and the Hawks (including drummer Levon Helm). They were featured at clubs in Hamilton, London and Toronto. Hawkins never returned to the United States, and would for many years perform throughout Canada. To this day he still lives in Ontario.
In the following chapters, other interesting and informative details are provided about the music scene of the period in Vancouver, and Toronto. What is also given are details and insight about the evolution of Bobby Dean and the Gems, Elvis Presley's wildly successful concerts in Canada, the important role of Little Caesar and the Consuls in the Canadian evolution, the Great Radio war in Toronto, 1963 (a critical year for Canadian pop music), and the story of the record Charlena, and Richie Knight and the Mid-Knights. A brief Epilogue ends this fascinating history.
Some Final Thoughts:
What Greig Stewart presents is a well researched and well written book. While in part a microcosm of events and influences coming from the United States, it is also a story which has separate and unique Canadian components. It is a title which is not only timely in its release and availability, but a pleasure to read. If you are interested in the history of Canadian popular music, it is one that should be added to your library, and priced at $39.95 for a hardcover book, it is a real bargain.
To top this all off, it is now time for you to dig deep through your 45s collection, or Google "Charlena" by Richie Knight and the Mid-Knights. Do listen to the tune and the band which inspired Greig Stewart to write his wonderful book. Enjoy that record, and then the book!
Images and text from a photo insert in Greig Stewart's book provided by publisher Glen Ellis, " Ronnie Hawkins and the Hawks at the Brass Rail Tavern in London, Ontario, 1963. In 1964, the Hawks went solo as Levon and the Hawks and, briefly, The Canadian Squires before becoming "The Band." By 1965, Hawkins ruled the roost at the Hawks' Nest, a teenage dance club above Le Coq d'Or Tavern on Toronto's Yonge Street, featuring local and international acts. Left to right: Rick Danko, Richard Manuel (seated), Ronnie Hawkins, Levon Helm, Robbie Robertson, Garth Hudson."       Photo: Serge Daniloff, i-love-the-band.tumblr.com
---
Greig Stewart, Hawkins, Hound Dog, Elvis, and Red – How Rock and Roll Invaded Canada (Toronto: Quick Red Fox Press, 2021), 416 pgs. Illustrations. $39.95 Cnd. hardcover. ISBN 978-1-7751876-1-5, orders are available at www.quickredfoxpress.com