By Douglas Phillips.
I can tell warmer weather is just around the corner by the travel brochures that are appearing in my mailbox with special offers to take a trip to Europe this summer. The cover of one,  in bold headlines, reads "Get Inspired, " and continues on about how much there is to love about Europe;  that we should visit England, soak up the history of romantic Paris, discover the famed Normandy coast or take a cruise down the Rhine in Germany. It is a far cry from the war-torn Europe of seven and a half decades ago.
Seventy-five years ago, Western Europe was under the control of the Nazis and Adolf Hitler, but June 6th, 1944 would mark the beginning of the Liberation of Europe, the defeat of Germany and bring the Second World War in Europe to an end in 1945.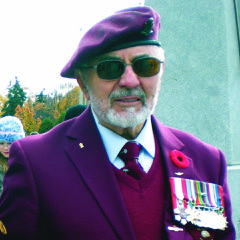 Canada would play a major role in "Operation Overlord," the largest seaborne amphibious invasion in the history of the Normandy beaches. As the anniversary date approaches the media will tell the story of Canadian troops jumping off landing crafts and capturing Juno Beach.  This is a chapter in our history to which we all owe our deepest gratitude to our brave young soldiers, airmen and sailors who risked their lives to bring freedom to Europe.
Behind the beaches of Normandy there is another chapter that is often overlooked.  That is the work of the French Resistance and SOE (Special Operations Executive) agents who sabotaged the rail lines, destroyed radar towers and blew up bridges.  These actions delayed the German Army from counter attacking the Allied Invasion and probably helped shorten the war.
SOE was created by British Prime Minister Winston Churchill in July 1940 "to undertake subversive action of every sort against the enemy".  This included sabotage of shipping, factories, war supplies, transportation facilities, training, and assisting secret armies in occupied countries on the use of arms and explosives. Secondary to this was the undermining of German troop morale, through political subversion, propaganda and fake news using radio broadcasts from the BBC and the Political Warfare Executive.
SOE was organized by country and region, and training camps for agents were set up around England and Scotland. Agents were recruited based on their language skills and country of origin. Canada, with its diversified cultural population, could supply dual nationality agents for France, Hungary, Yugoslavia and Italy.
With some unstable governments in South American countries, it was decided to deploy agents to undertake subversive counter-action against Nazi influence in these countries.  As well, it was also decided to support the work of Canadian Sir William Stephenson (BSC) British Security Coordination in New York and the newly formed American OSS (Office of Strategic Services), and a counter intelligent agency that reported to President Franklin Roosevelt.  Communication and training centers were needed in North America to train Canadian and American special agents.
The idea of opening an SOE training camp in Canada was raised by Stephenson and approved by SOE London, UK Head Office in September 1941. It was decided to locate the camp on the isolated shores of Lake Ontario on the Whitby/Oshawa border. The Sinclair farm consisting of two hundred and seventy acres was secretly purchase by Alfred Taylor, a Vancouver businessman. Because of the nature of the camp, its location was kept undercover, only the RCMP and high-ranking military people were informed, not even the Prime Minister at the time, McKenzie-King,  knew of its existence. Construction began immediately and the SOE school, STS 103 or Camp X, was ready by December 1941 and commenced with top instructors sent from England.
Many agents were Canadians from Hungarian and Yugoslavian backgrounds, but the groups were mostly separate due to culture and language knowledge.  Men were recruited from the military, and women from newspaper advertisements who trained as communication operators.
When the men agents arrived at Camp X, physical exercises began, and the training was very rigorous – the agent had to be in the very best physical condition.  Everything from jumping from heights, running, climbing walls – preparing them for whatever conditions they would encounter in the field.  They were trained repeatedly on a wide variety of weapons including all kinds of German weapons, to assemble and dismantle them while completely blindfolded.  They learned the skills of killing without their victim making a betraying sound, to attack trains, roads, bridges using plastic explosives and cutting communication lines, recognize German uniforms, planes, all kinds of vehicles, and to disguise themselves in order to blend in with the local population.  Agents had to literally 'think on their feet' to deal with any situation that arose, and especially to stay alive to avoid capture and to move on to their next assignment.
Training became even more intense when agents were subjected to interrogation methods used by the Gestapo. There were night-time exercises which consisted of being dropped off in a remote forest many miles from Camp X, and with no map or compass they had to find their way back to the camp within a time limit. Other training methods consisted of breaking into local factories, stealing railway engines, walking around Toronto dressed in a German uniform and talking their way out of a situation if arrested by the police. The more the agents had knowledge of the current conditions in their drop zone, the better they could infiltrate and help build and train the local resistance groups.  Agents who passed the Camp X advanced training courses were sent on for more specialized instruction at SOE schools in England before assignment to a mission in occupied Europe.
Men and women agents assigned to France were either parachuted in using RAF bombers, or were flown in using a Lysander aircraft. SOE had its own Lysander squadrons which operated from a secret airbase at RAF Tempsford in Bedfordshire, England. The airbase was disguised as a farm where agents would receive their final instructions, a radio set, maps, forged identification papers, weapons and a shovel to bury the parachute. Missions were carried out with a waning moon.  The planes flew low over the English Channel under the German radar, they would land in a farmer's field and hopefully be met by the French Resistance to be taken to a safe house.
This was a cat and mouse game and the Abwehr, the German counter intelligence agency, used detection vans to track  agents' nightly radio transmissions. Women radio operators were always on the move trying to stay one step ahead of the Abwehr, who often used double agents and paid informers to trap them.  Agents could not trust anyone, and sometimes it was a case of kill or be killed. An agent's chance of survival was slim, and if caught and handed over to the Gestapo, it was torture and subsequent execution.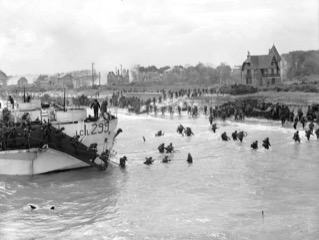 As D-Day drew closer SOE agents provided surveillance of German troop movements, sabotaged targets, provided leadership and arranged the reception of Jedburgh Teams with local French Resistance networks.
Operation Jedburgh
On the night before D-Day Jedburgh Teams were parachuted into France. This was the first operation between SOE, OSS and the Free French Central Intelligence. Dressed in military uniform, three-man teams provided liaison between Allied Forces and the Maquis, the French Resistance cells.  Their main function was to inspire and organize clandestine activities and arrange airdrops of arms and ammunition. French Canadian Officers trained in Camp X played a key role in recruiting resistance fighters and planning guerilla warfare on German Forces.  In total 93 Jedburgh Teams operated in 54 French districts between June and December 1944.  The German Garrison surrendered the French capital of Paris on August 25th, 1944; next was Belgium and then the liberation of Holland.  Agents and the Maquis were honoured as heroes by the French Government.
By then, the SOE role was winding down in Europe and it claimed mission accomplished in support of the D-Day landings. SOE had supported resistance cells and conducted hundreds of sabotage attacks on railway lines, cut thousands of telephone lines and destroyed fuel dumps resulting in delaying the German counter assault.  However, war in the Far East was not over, so SOE recruited returning Canadian agents for service in Force 136 against the Japanese Army in Malaysia, Burma and Vietnam.
Camp X as an SOE training camp was closed in April 1944. The number of agents trained there is unclear, but it is thought 500 of which 250 were Canadian SOE agents. The American agency OSS is now the CIA and the FBI. All records were destroyed in 1945. The commutations center was turned over to the Canadian Army Signals who operated the Hydra station as a listening post during the Cold War.  Camp X was finally closed and demolished in 1969.
Memorials
There are many to the SOE agents who gave their lives for the cause of freedom.
Valencay Loire Valley, France:
Unveiled on the May 6th, 1991 to mark the fiftieth Anniversary of the first SOE agents dispatched to France. The honour roll lists 91 men and 13 women who were executed.  Included are Canadian heroes Frank Pickersgill,  John MacCalister,  Romeo Sabouri, Robert Byerly and Francois Deniset, who all died in German concentration camps. All are listed on the honour roll,  some with their stories that  can be read by visiting: –
SOE Women's Tempsford Memorial England:
Located close to the SOE airbase where most of the women listed on the memorial flew from into occupied Europe. The white marble column was unveiled on December 3rd, 2013 by Charles, The Prince of Wales. Women from thirteen countries are commemorated. The memorial lists 75 known agents of whom 16 were executed by the Gestapo. Among the names is Violette Szabo who was awarded the George Cross posthumously for outstanding bravery. Her courage and the story of her two missions is told in detail on 
https://en.wikipedia.org/wiki/Violette_Szabo
. She is only one of the many women agents who volunteered. Their stories of heroism can be recalled at: 
https://en.wikipedia.org/wiki/Tempsford_Memorial
The Camp X Memorial:
This memorial site is located at Intrepid Park, Whitby on the original site overlooking Lake Ontario. A plaque is dedicated to the men and women who worked and trained at the camp and a second plaque honours Sir William Stephenson (A Man called Intrepid). A display case with Camp X artifacts is located at the Durham County Regional Offices in Whitby.
Special mention to Lynn-Philip Hodgson and his wife Marlene who have spent many years keeping the memory of Camp X alive through books, presentations and talks at Doors Open and events in Whitby and Oshawa. Details at 
http://www.camp-x.com
The Westland Lysander Mk III:
The Westland Lysander Mk III spy taxi was a special model of the MK1 that began production in 1938 as an Army support plane and light bomber. Its short take off and landing capacity made it perfect for transporting agents and rescuing air crews from occupied Europe. 1n 1941 SOE formed special Lysander Squadron 138 that operated from RAF Tempsford.  A second Squadron 161 was added in 1942 that operated out of RAF Tangmere (Battle of Britain Airfield) in Southern England.  The planes were painted in black camouflage and equipped with an extra fuel drop tank, and a ladder on the port side to aid an agent's quick drop-off and pick-up. The powerful 870hp Bristol Mercury radial air-cooled engine with a light air frame and high wing design made it ideal to land and take off on French farm fields.
Two hundred and twenty Lysanders were manufactured in Canada by Victory Aircraft (later Avro Canada) in Malton, and they were mainly used to tow gunnery targets. Painted in yellow and black stripes called "Oxydol" after a washing powder box. Presently there are three airworthy Lysanders that take part in air shows,
Vintage Wings, Gatineau PQ, Canadian Warplane Museum Hamilton, ON and the Shuffleworth Aircraft Collection, Bedfordshire, England.
This story is dedicated to my friend Jan de Vries of the First Canadian Parachute Battalion, who parachuted into Normandy on the night before the D-Day landings. He missed the drop zone but was able elude capture by German patrols. Sadly, Jan and many of his comrades are no longer with us, but we thank them and everyone who served, and those who gave their lives for our freedom. Please remember them on the June 6th.
Reference: 'A Most Ungentlemanly Way of War – The SOE and the Canadian Connection'by Colonel Bernd Horn, and 'Inside Camp X' by Lynn-Philip Hodgson