By Pat Stott-Prince
Muffineer. A strange name for a sugar shaker, to be sure. Wherever did it come from? It is not a word used much today. In fact, try it out on a friend and after a puzzled look, she will ask, "What is a muffineer?"
The dictionary definition states: (1) A utensil like a large salt shaker for sprinkling sugar, cinnamon or other granular condiments, over muffins (2) a covered dish for keeping muffins, biscuits and the like, hot. We all are quite familiar with muffins, but the suffix "eer" refers to someone or some thing engaged in a specific activity.
Our Victorian ancestors did love their sweets and would liberally sprinkle their muffins and many other edibles with sugar. Muffineers were part of the Victorian tableware along with so many other serving utensils that seem foreign to us now. Many were quite elaborate and they are very collectible today. They were made from china, porcelain, glass and/or silver. With the change in life style after the First World War and on into the 1960s, muffineers were referred to as sugar shakers and were not quite as elegant or elaborate. The art deco era brought great changes in design and character. Artists in England such as Susie Cooper, Clarisse Cliffe and later, Lorna Bailey, brought their brilliant colours to the new era of painted china pieces, including muffineers.
The mass importing of articles from Japan brought many cheaper knock-offs. Some were whimsical and not well made. Noritake china is one of the exceptions as this company produced many well made and beautiful porcelain pieces. The Japanese influence is usually noted for the use of brilliant lusters, and peony type flowers. Muffineers became a part of spice sets and were used during the ritual of the home- maker's baking day and not set out on the dining table. Some, however, were paired up with a cream pitcher and filled with confectionery sugar and set out for desserts. They were referred to as berry sugar and cream sets. At breakfast time the set would contain sugar and syrup for waffles, crumpets or pancakes. As well as the muffineer and the open sugar bowl, there were two other elaborate articles for sugar in days gone by. One was the sugar sifting spoon. It was shaped like a lading spoon and had holes in the base. Sugar was lifted from the bowl and sprinkled over the food or coffee/tea cup. One had to be very careful and in a hurry with the transition.
The other article was a sugar scuttle. It was well named as it was indeed the shape of a coal scuttle. A shovel style spoon usually accompanied the scuttle. Annette Morrissey in Gravenhurst, Ontario, has inherited a collection of porcelain and glass muffineers. Her in-laws, Fred and Marie Morrissey were well known as antique dealers in the Flesherton area from the 1950s through to the 1980s. "My mother-in-law enjoyed the muffineers so much," said Annette, "that she kept them as her own collection." Annette has 25 from the collection and finds she can only display a few of them along with other lovely items she has collected over the years.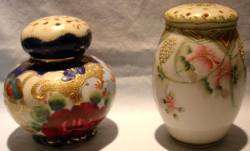 The Morrissey collection is all beauty and no whimsy. All are either porcelain or glass. The tops either match the porcelain, or are made of silver or white metal, depending on the quality. You may come across a muffineer without the top and not recognize it as such. The tops were easily broken or split when turned too tightly. They also could become chipped when small granules kept the lid from fitting correctly. Muffineers range in size from a tomato or little shrimp size of three inches to a tall tower of eight inches, but most range from five to seven inches in height. Prices for muffineers vary greatly according to the style, material, condition and age. A piece made in Japan from the 1930s may fetch $30 to $40, while an old European one of glass or porcelain and of a sought after style may fetch over $400.
Pat Stott-Prince lives in Gravenhurst during the summer months and Florida in the winter. She is still very active in collecting egg cups and related articles and tries to stop at as many shops and shows on the way to and from as time allows.
Photo 1 – Three glass muffineers with white metal tops: vaseline glass, cranberry glass and clear glass with white swirls.
Photo 2 – Two diamond quilted satin glass muffineers are identical except for their colour. One is pale blue and the other is pale green. Both have white metal tops.
Photo 3 – Two muffineers from Japan show an oriental flavour. The shorter one is rounded with a matching knob top. The second is a Noritake.