By Robin Pridham
I have a long association with the Canadian Military and military related items. Starting way back in 1973 I joined my local Army Cadet corps, based out of the high school in Palmerston, Ontario. The shooting range was in the basement of the school using real guns and live ammunition fired at 100 feet. That was the '70s for you! Over the six years I was a cadet, I worked my way up to Cadet Commanding Officer, something I was very proud of. The natural progression from the cadet experience became full time participation in the Canadian Armed Forces with over 16 years' experience, including a 5-year stint in Germany during the cold war and participation in the First Gulf War. This is a very peripheral, top line view of my military past, but suffice to say I have a long standing and devoted interest in our military history. This is not to say that I am a bonafide historian on the subject, because I am not. What I do have is a deep appreciation for the horrors and sacrifice that the men and women of this great country have experienced and made over the past centuries to create the country and freedom we enjoy today. The interesting thing is that I am not alone. What I think makes military history and its related items an area of great interest is that there is a common thread that runs through the country, without discrimination against ethnic backgrounds, social or financial status, and often spanning multiple generations. We all share a little of this long history in some way or another and that has been instrumental in creating a remarkably large collecting public when it comes to military related items.
Back in the spring of this year, shortly after COVID 19 put its grip on the country, Pridham's conducted an auction called the "Library Sale." A very interesting and eclectic mixture of items including numerous choice military related pieces. There were a few significant highlights to the sale, but the one with the greatest Canadian military interest was that of a red Canadian militia coatee, used during the war of 1812. Originating from an old Montreal family, it was in remarkably good condition considering the age. Carefully stored in the bottom of an old trunk, it was completely intact, garnering wide ranging interest from collectors and historians alike. Like most things that bring well over asking, provenance and condition are the two most critical aspects. This had both, with traceable family linage going directly back to Captain George Platt (Loyalists founding Plattsburg N.Y and subsequently settling in Montreal), staying with the family until it was brought to our gallery to be sold to a very enthusiastic buying public. Settling in at $11,400 with premium, we may have very well set a Canadian record for the sale of such an item. Although not purchased by a museum, I am confident the new owner will give it the recognition it deserves.
In the gun department, a number of examples were offered, including a Jonathan Stanton flint lock pistol with considerable loss, that still came in at $1,680. Numerous good antique muskets were on offer, but one took 1st prize. A mid-19th century native trade gun. Of British origin, these guns were developed to be used as trade with native Americans for such things as furs and pelts. Decorated with a brass serpent on the left side, the gun was in otherwise very poor condition. With a meager estimate of $300 – $500 it soared to close at $4800, finding a new home in Texas.
There were many other notable items in this sale, ranging from Scottish dirks to pre-Darwinian drawings of birds, monkeys and reptiles but another of the top lots turned out to be a letter. Not just any letter, but a letter written by the Duke of Wellington on the eve of the Battle of Waterloo. Referred to in scholarly circles as the "Blucher" letter, it hints at Wellington's disappointment with his Prussian ally Field Marshal Von Blucher's advance on Waterloo. Bidding was brisk with those in the know vying for this important letter from one of the most famous battles during the Napoleonic reign. Provenance was a Montreal family with Austrian roots. Settling down at $7800, the letter once again demonstrated the fact that rarity will drive price.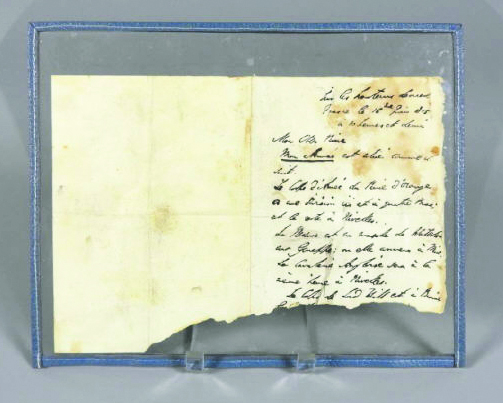 More recently, a rare book and militaria sale was conducted in our auction gallery on Lancaster road in Ottawa. Along with over 100 lots of rare and interesting books was a good selection of military related items. The most exciting item from this genre were two trench maps used during the Battle for Passchendaele during the 1st World War . Consigned from a local collector, I could not believe it when I saw them come in the front door. This was such an iconic and important battle, in particular for the Canadians involved. The Battle was considered one of the most horrific of the First World War with tremendous loss on both sides. Over 100,000 members of the Canadian corps took part in the battle with 4,000 Canadians losing their lives and 12,000 wounded. No less than nine Victoria Crosses were awarded for exceptional bravery, and you needed to be brave to endure the hell on earth that took place at Passchendaele. This became a defining battle in Canadian history. On the maps were crease marks, grime, and wear from being in the pocket of those in the thick of the battle. The first map was dated September 1917 and the other October. Each showed the advancement of the allied front line, month to month, along with German trenches and gun placements. The October map shows the front line at the edge of the Village of Passchendaele. Rare and important, this was not lost on the enthusiastic bidders during the auction. Hammering down at $4200, they will be cherished for years to come.
There is no doubt that items relating to our military past are still important and relevant to collectors and those with a keen interest in military matters. I hope this article inspires some passion with you for those brave men and women that mustered the courage to do the unthinkable. History tells an incredible story, not to be forgotten so not to be repeated.
Robin Andrew Pridham, owner of Pridham's Auctions & Appraisals, with an auction gallery in Ottawa, Ontario, is a graduate of Reppert's Auction Business School (Indiana, USA), and a member of the National Auctioneers Association and the Auctioneers Association of Ontario. He has over 30 years experience appraising, buying and selling antiques and fine art.