by Helmut Ostermann
Growing up, my two younger sisters and I lived in a home that functioned just like the rest in our neighbourhood. Two car garage, large backyard with a swing set, an array of family pets, home-cooked meals by mom, and a dad who could fix anything. The only thing different was our basement! The basement didn't have couches and a big screen TV, and it didn't have unused exercise equipment like all my friends had at their homes. Our basement was simply "Dad's Domain" which included a large workbench, display cases with model trains, a huge train model layout, cameras, projectors/screens and thousands of slides, a "dark room" for printing pictures and anything and everything related to trains filled the rest of the basement.  Dad would invite grown men over, and they'd spend hours analyzing trains and looking at slides of trains. Dad tried very hard to "train" (pun!) my sisters and I into loving trains as much as he did, but was only slightly successful with my youngest sister.
Fast forward to today and I'd like to introduce you to my dad, Helmut Ostermann, the man who can fix anything, has an interest in history and a passion for all things trains! And YES, the basement remains the same, just with more acquired treasures along the way. The house is a little quieter now that my sisters and I have grown up and have moved out. Now dad has more time to relax, enjoy his train hobbies and "brainwash" his grandson into sharing his love of trains.
Liz Kristensen
(Helmut's daughter)
Every antique shop has them, had them or will have them.  These miniature electro-mechanical marvels from a simpler time have entertained many of us in our formative years and because of their generally high quality of manufacture are still capable of running many thousands of miles today.  In the three decades following the end of the Second World War, three companies dominated the North American Market for electric toy trains.  From biggest to smallest these are the Lionel Corporation, A.C. Gilbert producer of American Flyer trains and The Louis Marx Company.  This article will focus on the history of the first two well-known companies.
A wet cell battery powered the first electric train.  It was shown to the public on October 14, 1835.  Its maker was an upstate New York blacksmith by the name of Thomas Davenport who did not commercialize the product.   Joshua Lionel Cowen was born on August 25, 1877, the eighth of nine children.  J.L. Cowen worked for Henner & Anderson, which marketed one of the first dry cell batteries in the United States.  It was not until 1900 that J. L. Cowen produced an electric train that ran in a circle powered by a dry cell battery.  This four-wheel box-shaped wagon was intended as a store window display to show off products placed in the wagon.  The first store display train was quickly sold to a customer and sales took off briskly resulting in a first-year profit of $800.  This first electric express gondola was developed into a trolley car, something that people could relate to.  Lionel produced his first catalogue in 1902.  Sales reached $22,322 by 1907 and $839,000 by 1921.  Although Lionel primarily produced large standard gauge trains, in 1910 they introduced smaller O-gauge trains built to a scale of 1/48.
During World War I Lionel built compasses and binnacles for the U.S. Navy.  By 1921 J.L. Cowen estimated that he had made one million train sets.  When asked by model train distributor William K. Walthers in 1929 why Lionel did not paint their signals black & white like real ones, Lionel replied that it was actually women who bought electric trains and they bought with colour in mind.  Curiously Lionel did produce a girl's train set in 1957 that included a pink steam engine and freight cars in pastel colours.  Although originals are now highly collectable, the set was a market flop at the time.
The depression years hit Lionel hard.  During the four-year period from 1930 until 1934, the company made no money.  In 1934 Lionel partnered with Disney to produce the Mickey and Minnie handcar with a circle of track for one dollar.   Lionel produced 253,000 of these, turning down orders for another 100,000 by Christmas.  By January 1, 1935, the Mickey Mouse handcar helped take Lionel out of receivership.  1935 saw the invention of Lionel's very realistic sounding whistle that blew an "F" note via a tiny motor driven fan activated by a DC relay.  This was followed by the introduction of the automatic crossing gateman and from then on that item was never out of the catalogue.  It was so popular that the Russians even plagiarized its design.
Lionel went public in 1937 with a stock offering that raised $930,000.  The company also experienced its first strike that year when 200 workers walked off the job seeking a $0.40-hour minimum wage.   In 1942 Lionel was finally unionized.  By June 1942 Lionel train production was suspended for war work.  During 1943 and 1944 Lionel produced cardboard train sets to maintain the public's interest until they could produce metal toy trains again after the war.
After the war, during Lionel's peak years from 1946 – 1957, Lionel strongly encouraged the idea of a life long comradeship between a boy and his Father, suggesting it could be achieved through enjoying the model train hobby together.  The Lionel Company studied birth statistics and found that 16 million babies were born during the war years and that a post-war baby boom of unprecedented proportions was forecast.  Toy trains were generally bought for the 6 to 9-year-old age group.  Technology developed during the war years resulted in 500 new plastics being available to toy train manufacturers for the postwar boom.
In 1946 both American Flyer and Lionel introduced sophisticated systems to produce synchronized smoke with chuffing sounds.  In 1948 Lionel introduced The Santa Fe F-3A diesel that was carried in the catalogue for nineteen years and became their best-selling engine of all time.  Both General Motors and Santa Fe Railway each paid 25% ($7,000) of the tooling costs for the new diesel in exchange for having their emblems featured on the new models.  The Sunoco Oil Company paid up to $15,000 a year for inclusion of their logo on Lionel trains.  In October of 1950, Lionel and its 2000 employees celebrated the company's 50th anniversary.
Many of Lionel's operating freight cars, including the famous milk car, were designed by an upstate New York carpenter by the name of Richard G. Smith.  Although he would usually sell his design patents outright, he reluctantly agreed to a 2% royalty on the wholesale price of the milk car.  To everyone's surprise by 1952 Lionel made 180,000 operating milk cars, netting Smith a royalty cheque of $20,000.  In 1952 Lionel produced 622,209 engines and 2,460,764 freight cars.  In Lionel's peak year of 1953 the company sold $33 million in trains.  After 1953 the company began to falter.  Between this time and 1955 sales dropped 38%.  Lionel realized that markets were shifting in 1957 as airlines now carried more passengers than railroads.  Lionel introduced HO scale trains in 1957 and this was the last year the Company made a profit on electric trains.  By 1958 sales fell to $14.4 million and the company lost $469,000.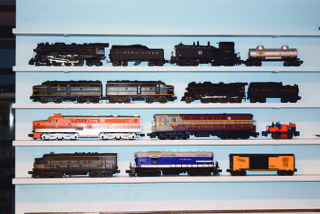 Lionel's fortunes became decidedly worse by 1959 to the point that Joshua Lionel Cowen who was retired at the time, sold all of his stock without informing his son Lawrence who was President of Lionel.  This caused tension in the family.  In the end,  J.L. Cowen's son Lawrence also sold all of his Lionel stock for the same $15 a share his Father had accepted.  It is believed that he was secretly glad to be out of the failing company.  Despite the new management team's efforts, Lionel did not pay dividends again until 1977.
Joshua Lionel Cowen passed away on September 8, 1965.  In 1967 Lionel purchased the failing A.C. Gilbert Company, the manufacturer of American Flyer trains for $150,000.  Lionel began to produce American Flyer trains again in 1981.  In 1969 the Lionel name and tooling dies were leased by breakfast cereal giant General Mills.  In 1977 General Mills sold $21 million in Lionel trains.  These were manufactured by Fundimensions in Mount Clemens, Michigan using the original 1950s dies and tooling. Fast forward to today when all Lionel products are loaded with electronic features and are all built in China.
American Flyer was founded in Chicago in 1907 by W.O. Coleman and William Haffner.  Haffner split from Coleman in 1914 and produced mechanical wind-up trains up until 1951.  A.C. Gilbert had two great hobbies in his youth: athletics and magic.  By the time he entered Yale in 1904, he was an accomplished magician.  It was a short time later he met a mechanic named John Petrie.  In 1907 the two of them began to produce and sell magic trick kits under the name "Mysto Manufacturing Company."
When A.C. Gilbert graduated medical school in 1909, he broke the news to his Father that rather than pursuing medicine he would like to go into business producing toys and magic kits.  His Father supported him with a $5,000 investment and his magic kit business was an instant success grossing over $47,000 by 1911.  A.C. Gilbert made frequent train trips between New Haven, Connecticut and New York City on the New Haven Railroad. It was here that he observed the installation of girder towers for the overhead electrification of the railroad.  These observations led to the creation of "Erector" sets, which were very similar to the future Meccano from England.  Erector was introduced in 1913 and was also instantly successful.
In 1937 A.C. Gilbert told W.O. Coleman who owned American Flyer that he was thinking about becoming a competitor and would produce HO gauge trains.  W.O. Coleman said, "Why don't you buy me out?"  Gilbert said, "I can't afford to," so Coleman offered a deal to have Gilbert pay for American Flyer out of the profits of twelve years of sales.  A deal was struck and American Flyer tooling was moved from Chicago to New Haven in April 1938.  O scale trains were produced up to 1940.  In 1941 war came and all toy train production stopped. 125 girls in the factory retrained to produce parts for machine guns and land mines, as well as parts for Republic Aviations P-47 Thunderbolt aircraft.
In 1946 American Flyer introduced 1/64 scale S-gauge.  American Flyer and Lionel both came out with realistic smoke puffing and choo-choo sounds almost on the same day in 1946.  American Flyer continually advertised that their two rail track was more realistic than Lionel's three rail track.  Lionel however still outsold American Flyer 3 to 1.  American Flyer was aided by suppliers such as Colber who produced model buildings and accessories.  Jefferson Electric of Chicago produced transformers.  The A.C. Gilbert Company then began making its own armature, transformer, and stator winding machines.  At one time it was the world's largest manufacturer of fractional horsepower motors.  In 1950 American Flyer introduced the GP-7 #370 diesel and the sleek ALCO PA1 Santa Fe passenger diesel #360, 361.  Couplers were changed from the postwar link coupler to a realistic knuckle coupler in 1952.  In 1956 American Flyer did some unusual advertising by giving away small comic books in cereal boxes such as Kelloggs Sugar Smacks.  On the back of the comic book was a coupon for a 1956 American Flyer catalogue.  1958 would turn out to be the peak year for American Flyer.  In its last five years of business, the A.C. Gilbert Company lost $20 million.  Liabilities exceeded assets by $12 million.  A.C. Gilbert Sr. died in 1960 at age 76, and his son passed away in 1964.  The company would close in bankruptcy in 1967.
Now the question is – what to do with those very well made trains from the golden era of postwar manufacturing?  I've been seriously involved with model trains since age 16 and have designed and built elaborate electronic control systems for model railways.  As an electronic technician, my career has intertwined with my passion for "all things trains".   I've always enjoyed being able to use my skills to repair and restore these classics from the past.  Now that I am retired from running an electronic office machine repair business, I once again have time to spend on my favourite hobbies, including repairing vintage postwar toy trains and hand crafting historic railway photographs in a traditional photo darkroom.  Three years ago I had the golden opportunity to purchase over 10,000 Lionel and American Flyer train repair parts from a gentleman who had serviced these trains in the Toronto market since the 1960s.  I am located in Waterloo Ontario and also have a repair drop off location in Mississauga.  I would be happy to provide a repair estimate to establish the viability of bringing your vintage toy trains back to life.  Alternately, I would be pleased to supply postwar train parts to anyone doing their own toy train repairs.
The author, Helmut Ostermann may be
(Photos by Helmut Ostermann)