By Rob Lamberti.
    This is the tale of two Atlases.
The first Atlas Comics was part of the Martin Goodman publishing empire and the comics printed by it would be known as Timely Comics, Atlas Comics and Marvel Comics. The last Atlas comic published by that company was in 1959 before finally transforming into the Marvel Comics we now know.
Goodman sold his magazine and comics company in 1968 for about $15 million with the proviso his son Chip would eventually become publisher. Promises were made; hands were shaken in a deal that saw ownership slide over to Perfect Film and Chemical Corporation, which changed its name to Cadence Industries.
Alas, Chip didn't last long in the company, and Stan Lee became publisher of Marvel. Did backstabbing push Chip Goodman out? Maybe. Maybe not. However it happened, it seemed Goodman wanted revenge — and make money.
He got back into the four-colour comics business in 1974 with his son Chip specifically in an attempt to create havoc for Marvel. He called the company Atlas Comics/Seaboard Comics. He offered deals to creators that he refused to consider while at Marvel, including ownership rights to characters, return of artwork and high rates. Working with Goodman was Stan Lee's brother Larry Lieber, apparently seeking a way out of his big bro's shadow and making his mark in the field. But the venture was plagued by poor distribution and the company folded
within 18 months
, except for one magazine, Swank. Yes, that Swank.
The comic books and black and white comic magazines looked like Marvels but didn't fit in the Marvel Universe, or any other comic universe, and were destined for the 25-cent to $1 bin. They were trapped in the bargain bins for about two decades. That's something I regret doing. I had a bunch that was put in the sale bins and they moved quickly at a quarter or 50 cents.
A funny thing happened though. Collectors and dealers began acknowledgingthe art in this second generation of Atlas books as being good, edging on tremendous. Goodman used a stable of seasoned artists — including the likes of Steve Ditko of Spider-Man and Dr. Strange fame — and a few newbies that would later make their mark in comic fandom, including artist Howard Chaykin. Some of the titles did annoy Marvel, getting too close in similarities with their copyrighted characters. Along with its colour comic titles, Seaboard published a few black-and-white magazine-sized comics, some of middling quality, others of excellent quality.
The Atlas reboot is now officially collectable. Those distribution troubles didn't seem to diminish quantities available to the market, but higher grades may be harder to find. Those bargain bins aren't always kind to the paper spine.
Among the titles is a four-issue run of Wulf the Barbarian (born in an era that was driven by Marvel's version of Conan the Barbarian), a three-issue run of Planet of Vampires (with art by Neal Adams, Russ Heath and Dick Giordano), and Chaykin's contribution was the character Scorpion that appeared by his hand in two issues, and by other artists in the third and final issue.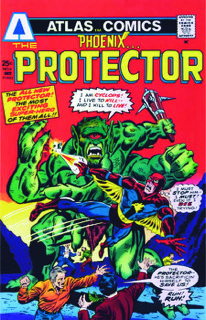 Despite the best efforts, or at least in Goodman trying to serve a dish served cold, it seems all roads lead to Marvel. Chaykin brought the pulp-like action character to Marvel, this time called Domenic Fortune, after Atlas folded.
The story doesn't end there. Fledging publisher Jeffrey Stevens bought the rights to the name Atlas Comics in 2002, while in 2010 Goodman's protégé, grandson Jason, launched again the titles his grandfather issued in 1974 and 1975 under the Atlas label. Legal disputes ensued but the bottom line was that the newest Goodman couldn't use the name Atlas Comics. The label was then legally transferred to another company Dynamite Characters in 2014.
Those legal battles mean little to the collectors of the 1970s comics. The Seaboard magazines — both comics and confession magazines — are getting pricey for collectors. Devilina is in the $60 to $70 range in Near Mint, while Thrilling Adventure Stories ranges between $30 and $50 in Near Mint. Gothic Romances — with art by Russ Heath, Neal Adams, and Chaykin — is pushing the $700 mark for Near Mint, and Movie Monsters are averaging around $50. The scarce My Secret magazine, offered was a real kick at Marvel as the front cover shows a woman wearing a Captain America shirt, hovers around $350 in Near Mint.
Those Bronze Age regular-sized comic books are currently fairly reasonably priced — in the mid teens to about $30 in Near Mint — and they most likely won't overtake the importance of any key book published by Marvel or DC Comics. But it may be worth seeking them out in higher grades before the voracious market prices them out of the hands of most collectors.