By Ryan Rogers
OSHAWA – Durham Farm Connections celebrated the 150th anniversary of Canada's Confederation by showing how deep Durham Region's agricultural roots run, by recognizing farm families who have been farming continually in Canada since 1867, and are still farming in Durham today.
During the Celebrate Agriculture 2017 Gala, they honoured more than 130 farm families who fit the criteria, and exemplify Durham Region's historical agricultural contributions.
Among them is the Mackey family in Oshawa, who descend from a United Empire Loyalist who settled in Ontario after the American Revolutionary War, rewarded for his loyalty to the Queen with 200 acres in Pickering.
The Mackey's forefather, Matthias, arrived in the 18th century as a 19-year-old, immigrating from New Jersey to sign a deed in 1798, where he raised eight children on the homestead with is wife Nancy. Clearing the land must have been tremendous work.
"Oh, I can't imagine!" admits Phil Mackey, 49, generations later.
"I got to hand it to him, I've cleared land now and I've got equipment, but to come here and they had an ax and a shovel, and that's what they had to work with! It's amazing," he says. "And then it's like, you can't run down to the grocery store, you've got to grow something to eat, or find something to eat. It's amazing what they had to do."
Phil and his cousin Frank Mackey relocated their farmland to northern Oshawa on Howden Rd., switching from a dairy farm to cash crops in the 1990s. The old 200-acre dairy farm Phil's father Robert, and uncle James worked, was formerly located between Rossland Dr. and Hwy. 2.
James and Robert Mackey, better known as Jim and Bob, worked together all their lives. It was a dairy farm until the 1940s, when they diversified and became a mixed farm.
Phil and Frank sold the farm and bought 230 acres on Howden Rd. in 1991, transferring from dairy and cattle into cash crops, like soybeans and wheat. The cattle are now gone, and things have changed, but Phil maintains a few artifacts from the old farm.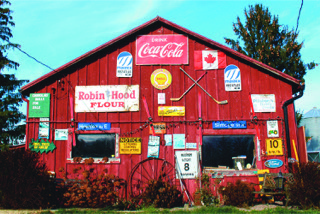 One relic is an old plow that's been put to pasture in their front garden. Phil says old equipment was always being chopped and stripped for parts in a pinch to repair other equipment, and this plow was no exception. It's missing a handle that must have been repurposed elsewhere.
Other artifacts include hockey sticks or skis his family hasn't used in decades, or street signs he harvested from the earth while clearing the fields, and his family Bibles, with their pages falling loose, and stuffed back between the covers along with notes and messages.
The real treasures aren't the artifacts, but the stories behind them, and the significance they carry.
One telling artifact is a road sign reading: "Maximum Weight 80 tonnes," which was posted on an old wooden bridge near Rossland Rd. W. and Coronation Rd., where Robert's dairy farm once stood, which has been replaced with a four-lane overpass.
"(The Township) demolished it… so they had a ceremony to close the bridge, and my dad went and they gave him the sign," says Phil. "He had the farm right beside it, so they gave him those signs."
"It's hillbilly chic," jokes Phil's son Robb. Robb, 21, is a fourth-year economics student at Guelph University, who's planning to run a market garden to sell chickens and eggs.
Robb admits, the artifacts don't hold a light to the good deeds in his family's history.
On Phil's maternal side, he descends from the Conlin family, which has a strong reputation in Durham, too.
Phil's mother's father, Grandpa Conlin, used to buy cattle and butcher them on his farm. He'd hang it overnight and drive it to market in downtown Whitby. During the Great Depression he'd arrive at the butcher shop and sometimes 10-20 people stood out front, begging for charity.
"Mr. Conlin, could you spare some of the scrap bones and fat to make soup?" they'd ask, recalls Phil.
Phil's father's side saw the same thing, during the Depression. Robert's mother would have travellers knock on their door begging for coffee, butter and bread, as they moved between Toronto and Whitby along Hwy. 2, the main road back in the '30s.
Those stories and charitable acts do more to fill the hearts than any artifact could.
"It's not material things that make you look back and go 'Wow, my family's been here this whole time.' It's the stories of your great grandfather and lessons they teach you," says Robb.
No artifact literally represents these stories, but to Robb, seeing the street signs that bear his family names around Whitby is as good a sign as any.
Conlin Rd. runs east-west across the land where the Conlins once farmed, allowing commuters through the Durham College campus in northern Oshawa. And Mackey Dr. runs north-south through the neighbourhood sitting atop the old Mackey homestead, in northwestern Whitby.
Robb admits, in a city like Oshawa with 160,000 citizens, being a farmer doesn't hold much caché anymore, but having the streets named after you sure does.