By Mike Smith
    For the past year or so I've been beavering away on a new edition of the J. W. Bald Picture Postcard Handbook 1905–1955, originally published in 2013. There have been so many new J. W. Bald postcard discoveries since then, in both real photo and printed format, a new (second) edition was just screaming to be made. In this Wayback Times article then, I'm going to discuss some of the postcard gems that started life as one of the thousands of amazing photographs taken by J. W. Bald over a career spanning more than 50 years.
John Witherspoon (J. W.) Bald (1868–1961) was born in Parsontown (now Birr), Ireland and immigrated to Canada with his family in 1871. Originally settling in Nottawa, Ontario, the Bald family moved to Penetanguishene in 1883 where the father, James Bald, was hired as a bookkeeper by the Ontario Reformatory for Boys. J. W. Bald is said to have been fascinated by photography as a youth, which ultimately led to an apprenticeship with Barrie photographer J. Frank Jackson in 1892. By 1897 J. W. Bald was back in Penetanguishene in his own photographic studio, and in 1898 purchased the Rodney O. Stokes Studio on King Street in Midland (see Figure 1). On or about 1905 the Penetanguishene studio was closed in favour of the Midland location.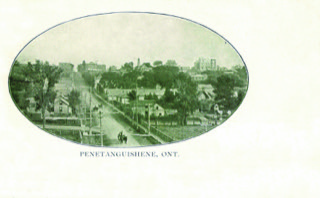 Like the work of many Canadian photographers during the postcard's golden age (1900–1914), J. W. Bald's stellar photographs ended up on oodles of cards. However, unlike most photographers of the period, J. W. Bald copyrighted much of his work. For this reason, the majority of the printed postcards made from his photos mention his name on the front or back (see Figure 2). This makes his cards very easy to catalogue.
During his lengthy career, J. W. Bald became one of Ontario's (and Canada's) foremost outdoor photographers. Navigating his own 30-foot cruiser, the Red Feather, in and around Georgian Bay as far north as Manitoulin Island, J. W. Bald took thousands of photographs of every nook and cranny. Main streets, factories, mills, harbours, islands, tourist resorts, etc. all ended up on his photos. Much of his work was reproduced as real photo postcards by J. W. Bald himself (see Figure 3), and much more ended up as printed postcards by the publishers of the day. Based on the amount of cards made from his photos, Atkinson Bros. (Toronto), W. G. MacFarlane (Toronto), Stedman Bros. (Brantford), and the aforementioned Valentine & Sons (see Figure 4) were particularly enamoured with his work.
One of the more exciting discoveries made while gathering data for the second edition of the J. W. Bald handbook was the identification of a new "earliest known J. W. Bald postcard." The card was published by W. G. MacFarlane, mailed on December 24, 1902, and has an oval image of Penetanguishene made from a J. W. Bald photo (see Figure 5). An important result of the W. G. MacFarlane discovery is that the date range attributed to J. W. Bald postcards has to be expanded to 1902–1955 from 1905–1955. It goes without saying that adding three years to a postcard period is quite significant. One other interesting discovery linked to the W. G. MacFarlane postcard is that its oval image of Penetanguishene was recently found online in a vintage souvenir view album. The album, published in 1901 by Orillia's R. O. Smith, is loaded with J. W. Bald photos of Midland and Penetanguishene. And given that W. G. MacFarlane's stock in trade before postcards was souvenir view albums, in all likelihood there's a MacFarlane link to the album as well.
Like Goderich's renowned photographer Reuben R. Sallows, J. W. Bald continued to take photographs well into his 80s. Although he closed the King Street studio in 1953 and "retired," he continued to work from his home until shortly before his death in 1961. And his postcards have been delighting collectors from the golden age until the present day.