by Richard MacFarlane
I owe an antiques passion to my mother, Kay (Kendrick) MacFarlane who lived in Port Credit, Ontario, and her father,       Dr. George Bryce Kendrick of Chatham-Windsor.
For 45 years, I've purchased (and sold) paintings, porcelain, Waterford crystal, sterling silver, silverplate, mahogany and pine. But my greatest love is the 2451 pattern of Royal Crown Derby.
What is the porcelain and Derby history? The Chinese and Japanese started it centuries ago. About 700 AD, this beautiful ceramic method of production was introduced by China. Its materials vitrified at 1,000 degree temperatures and became      non-porous and translucent.
The word porcelain is derived, experts write, from the Portuguese porcella or cowrie shell. The French word is porcelaine and, in German, porzellan.
Portuguese merchants first imported these precious Chinese wares into Europe during the 16th century. Porcelain is different than pottery. The former is translucent, the latter, opaque.
  History books state the great influence of Japanese porcelains on English manufacturers during the mid-1740s and 1750s. Thousands of chinaware were imported in the early 18th century by the English East India Company and sold at London auctions.
There were two basic porcelain types – hard- and soft-paste. Hard-paste was formed at a higher temperature (1,300 to 1,400℃) and soft-paste at a softer temperature (1,200℃).
By and large, Chinese, Japanese, and German porcelains were hard-paste. In contrast, Sèvres French porcelain from 1745-1772 was soft-paste. During the 18th century, the English manufactured soft-paste Bow, Chelsea, and Derby pieces. The distinguishing visual is a soft glaze versus a hard glittery glaze.
  English firms adapted manufacturing by using mixtures of glass, ground up bones, flint or sand, chalk, and pipe clay. Some experimented with soapstone from Cornwall.
From about 1750, bone china was introduced which eventually superseded other ingredients. Hence, the well known mark "English Bone China".
Josiah Spode (1733-1797) perfected bone china production and marketing at his Stoke pottery firm. Finely ground bone ash gave the china strength, translucency, and whiteness. Bone ash may be up to 50% of the ingredients. Other English factories – Ridgeway, Staffordshire, Wedgwood – also used bone ash.
What led to the famous Derby works in England? About 1750, it began with Andrew Planché, son of French Huguenot refugees, partnering to operate the first china works in Derby, and his meeting with John Heath and William Duesbury who took over the Chelsea factory in 1770. Mostly, this is known as the Chelsea-Derby period (1770-1784). From 1751-1753, Duesbury had lived and worked in China. He moved to England, settling in Longton.
By the late 1750s, Duesbury proclaimed his Derby products as "the second Dresden". He assembled a superior group of porcelain painters who drew exotic birds and cut flowers.
Duesbury's success was exemplified by the Queen and Duchess of Ancaster's visit to his showroom at London's Covent Gardens in 1776. The Queen made purchases, and the incorporation of the Crown and anchor to the maker's marks reflected Royal approval.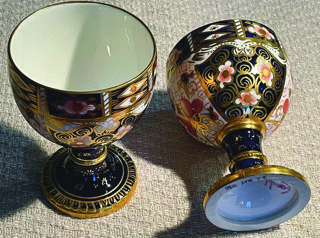 Soft-paste Derby was lavishly decorated with an array of colourful flowers, fruit, and landscapes depicting Derbyshire scenery with brilliant gilding. 
Derby painters were known for their floral art. Thomas Pardoe, William Pegg and Moses Webster were exponents of the rose.
  William Billingsley (1758-1828) was the stand out. From 1774, Billingsley was one of Derby's chief floral painters until 1799. Author Geoffrey A. Godden wrote, "Possibly no other English ceramic painter established such a long-lasting reputation or created so many porcelain works."
The lineage of craftsmen include William Duesbury II, after the death of his father in 1786, Irish miniature painter, Michael Kean, until 1811, and Robert Bloor (the recognized Bloor Derby era), from 1815. 
Unlike French, German and Italian counterparts who enjoyed early advantages of aristocratic or royal patronage, English factories depended on their commercial success in an extremely competitive marketplace. Prior to 1780, only about 2 of 15 factories sustained production into the 19th century.
Life in Derby, England accelerated with the Industrial Revolution. From 1821, streets were gas lit. In 1839, the railway began. The School of Art opened in 1878. A library and museum were built in 1879. The first electric lights glowed in 1894.            In 1907, Rolls Royce opened a factory. Railway, aircraft, and textile manufacturing followed. It was no surprise that porcelain production thrived.
Royalty gave Derby the official stamp of approval and added to its cachet. In 1773, George III visited Derby and, from 1775, the image of a crown appeared on the china. It was called "Crown Derby". Then in 1890, Her Majesty Queen Victoria declared it could be called "The Royal Crown Derby Porcelain Company."
There were numerous Imari imitations. For example, John Aynsley copied Derby painting and started his company in 1775.
During 45 years of buying Royal Crown Derby treasures, I have enjoyed meeting dealers, store keepers, collectors, and enthusiasts at antique shows. Besides Ontario, my travels have taken me to Oregon, Florida, Boston, and in 1966, the United Kingdom. 
In the past ten years, shopping, on line, has greatly extended the buyers' reach. I have purchased Royal Crown Derby from dealers in Gloucestershire, Norwich, the Channel Islands in England, Presteigne in Wales, in the U.S.A., Massachusetts, Illinois, and in Canada, Baddeck, Nova Scotia.
During the past five years, downsizing has become a huge industry. Estate contents on line auctions are everywhere. In June 2013, I moved from a house to a condo, reducing my own Derby contents from 350 to 150 pieces.
My keepsakes include a cherished group of 10 Royal Crown Derby dishes and plates with special order sterling silver borders. These items were made in England, and sterling additions were crafted in Canada by firms such as Birks Ellis. 
In 2009, on a visit to a gift shop, I met the Hon. Hugh Gibson, then Chairman and Chief Executive of The Royal Crown Derby Porcelain Company Limited. It was a marvellous chance to chat with the chief of this historic factory.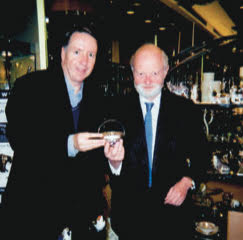 Much later, I bought a 1987 book by Murdoch and Twitchett, "Painters and the Derby China Works", sponsored by Royal Crown Derby. The foreword was written by the Hon. Hugh Gibson who retired from the Derby firm in 2012. The priceless Bemrose album of watercolours, letters, and photographs of Derby China Works was donated to the factory museum.
My Royal Crown Derby collection, now about 180 items, including 12 ramikin cups, comprises porcelain mostly dating from 1896 to 1940. I consider the finest RCD painting to have been achieved from 1914 to 1918.  After 1960, while still of a high standard, the art work is not quite as elaborate and beautiful.       The dark inky blue of dinner plate borders became even darker. The rich poppy red, Imari shapes, circles and swirls, the mellow tone of the gold gilt scrolling and scalloping were best reflected from 1914 to 1940. The Imari (named after the Japanese port city at Kyushu island from where ceramics were shipped) palette revolved around three colours – blue under glaze, rusty reddish-orange, and brilliant gold. Their popularity led to many imitations in the West.
Of special value are Royal Crown Derby 2451 pattern dishes with fluted, scalloped, and gadroon gold and deep blue borders.     A fluted nut dish, 1914, is prized, as is a serving plate, 1926.          A chocolate bon bon round serving plate with sterling galley and artistic tall handle, 1913, is precious, as are a pair of 1870s Davenport display plates bought at the outstanding Winnifred Polly Holt estate auction in 1988.
A modest miniature collection comprises the fish kettle, 1912; lidded vase, 1917; tea pot, 1906-07; milk churn, 1914; coal scuttle, 1907; and a tiny Crown Staffordshire sugar dish, le sucrier, c. 1906. 
Representing a former dessert service, the Royal Worcester Botanical Serving Plate, 1870, is colour illustrated in John Cushion's "English Porcelain" 1982 book.
A large Derby serving bowl with sterling silver rim, Wiltshaw & Wood, Burslem, Stoke-upon-Trent, Staffordshire, England, 1915-1932, was a lucky find in Clarksburg. 
An RCD 2451 coffee cup (and saucer), c. 1952, is decorated fully inside. The raised base has lovely dark blue and golden dot accents.
     COVID has extended the buyer's reach and marketplace for antique stores. One Toronto shopkeeper lost in-store traffic but he ships to more distant places than ever before.
  In an age of on-line auctions, eBay, Etsy, and Kijiji, we can find virtually anything our heart desires. It has broadened the antiques trade to unimaginable dimensions.
May you enjoy the beauty of ceramics and their exquisite qualities.

Richard MacFarlane grew up in Port Credit during the 1950s and '60s, attended Appleby College, then graduated in the 1970s in geography at Brock and Western. He was employed for 32 years with Metro, then City of Toronto, in the records and archives program. In Year 2000, he launched his biography about his father's 50 years in the newspaper business. Since childhood, he has collected and been fascinated about antiques. In the 1980s, he was involved with setting up tables and admin. for the Bayview Village Antique Show. Since 1973, a passionate crew oarsman, now sculler with Hanlan Boat Club, he enjoys retirement with his wife, Marilee, and celebrating his daughter, Kendra's, and her husband, Chris Pelland's, life journey and achievements.