By Robin Pridham.
In January of this year Pridham's was commissioned to sell by public auction the remaining estate of the late Frederick Cleveland Morgan (FCM). Who you might ask is F. Cleveland Morgan? A good question, particularly if you did not grow up in Montreal in the first half of the 20th Century. Let me take a minute to enlighten you as to who this enigmatic figure was and the role he has played in the Canadian decorative arts scene.
F. C. Morgan (1881-1962) was the great nephew of Henry Morgan, founder of  Morgan's Department stores, which were sold to the Hudson's Bay Company in the early sixties. FCM entered the family business in around 1900 and took charge of the decorative arts department at the store, eventually filling an entire floor with collections of ceramic, metal ware, art glass and silver from around the world, including many important Canadian and Quebec collections. In 1907, Morgan joined the Montreal Arts Society (later to become the Montreal Museum of Fine Arts) where he took a passionate interest in expanding the collections and diversity of the fledgling museum. In 1916, he convinced the association to dedicate an entire room to the decorative arts. This became the foundation for a life time of collecting, philanthropy and volunteer work (for 46 years), eventually donating thousands of items to the museum and cementing FCM as a founding father of the Musée des Beaux Arts de Montréal and a Person of National Historic Importance.
The summer residence of the Morgan Family was a beautiful 16,000 square foot Arts and Crafts masterpiece known as "Le Sabot" (The Clog). Sitting on the shores of Lake of Two Mountains in the west island community of Senneville, FCM filled his home with treasures, ranging from the 10th to the 20th Century, acquired from some of the finest dealers and shops in existence around the world. Fast forward to January 2017 and Le Sabot is sold to a new owner, leaving the care of the Morgan Family for the first time in four generations. The remaining legacy of FCM must be sold, and Pridham's Auction House is commissioned to conduct the sale on the 8th of April, 2017.
As with most large projects we undertake, there are a lot of moving parts and this was no exception. To create a legacy for one of the most important families in Montreal for over a century meant having all hands to the pumps. Specialists in history, web design, photography, cataloguing, graphic design, interior design, advertising, along with trusted packers and movers were all part of the big picture. It was a coordinated plan that had to go off with any delay to meet our stringent timeline with this project, and it did.
It was decided that the entire estate would be photographed and then packed and moved to the Beaconsfield Golf Club, a location that was complimentary in its design, age and ambience to Le Sabot. We were on site at Le Sabot for two months and another week at the golf course. The location could not have been better. Built in 1912, the Golf Club supported well the 443 lots that got unpacked and professionally arranged by Pridham's head of design, François Guenet. By the time the preview started at
noon
on Friday, the place looked absolutely fabulous. The string trio was ready to play, the prosecco was cold and the cheese platters were outstanding. The preview was exceptionally well attended and was a good indication for what to expect
on Saturday
morning. We were prepared to broadcast on both 'Live Auctioneers' and 'Invaluable', as well as executing pages of phone bids and bids in absentia. It was lining up to be an exciting and monumental sale.
As
10 a.m.
arrived
on Saturday
, I took my post at the block in the front of the room and settled in to what would turn out to be 7 ½ hours of selling with spirited, competitive bidding right up to the last lot.      The place was packed.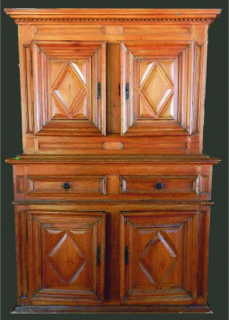 As you can imagine, there were many amazing lots in this sale. Rarity andquality once again were the driving factors to the success of this sale. We were fortunate to have five very early Quebec pine pieces. A low diamond point buffet, stripped of its original colour but still a real beauty. It sold for $8,300. A painted 4 drawer pine commode made $4,500. A diminutive but powerful serpentine butternut commode in the Louis XV style hammered down at a respectful $15,500. The star of the Quebec pine was an 18th Century diamond point buffet à deux corps. It was fabulous in both its size and proportions, a wonderful and rare example making $48,000. This shows once again that there is still a strong appetite for items that represent our heritage and in particular those of exceptional quality. Keeping with the Canadiana, an outstanding pair of museum quality beavertail snowshoes, most likely Mohawk, were the subject of very spirited bidding, selling for $2,100. They were unquestionably the nicest I had ever seen. Another rare piece of our history could be found in the late 18th Century Mohawk cradle board. Chip carved with an all over design of flowers, leaves and birds, it had been purchased by FCM in Caughwanaga in 1928. A very similar example is held by the Metropolitan Museum of Art in New York City. It was hammered down to an Ontario buyer for $11,975.
Other areas of strong interest came from Continental Europe. There was aspectacular array of paintings, porcelains, pottery, metal ware and silver, all acquired by FCM in the early days of the 20th Century. An early 18th Century Marburgh terracotta charger dated 1772 went to California after selling for $2,700. A pair if lime wood kneeling children, carved in northern Europe in the 17th Century were spectacular and sold justifiably for $3,600.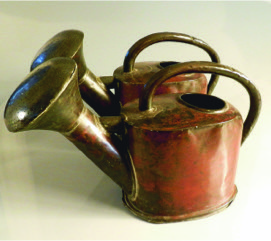 One of my favorite lots of the sale was an absolutely beautiful pair of 18th Century French watering cans. These were no ordinary run of the mill utilitarian items. They had a fantastic century old golden red patina, enveloping a perfectly proportioned body. Works of industrial art by any measure. As it turned out, I was not the only one with eyes for these beauties as bidding from all quarters pushed the final price to $2,900 for the pair. I would be remiss if I did not mention the Cromwellian refectory table. Dating from around 1625, this Jacobean oak giant, with its panelled top and barley twist turned supports was said to be from Fredington Court, a home occupied by Oliver Cromwell (1599-1658), an English military and political leader and later Lord Protector of the Commonwealth of England, Scotland and Ireland. Cromwell used Fredington Court as his command centre. The table sold for $10,700. There are many other fine examples from this sale that are interesting and worthy of conversation, but if I was to choose one lot, it would have to be that of the mortuary portrait of "Nicholas Stochius" (1599-1605) painted in 1605 by an unknown Dutch artist, with a dove in one hand and a serpent at his feet, the haunting portrait garnered international attention. With bidders in the room, galleries in New York and private collectors in Europe, the masterpiece finally hammered down for $44,300. to a European buyer. The buyer is reputably a collector of silver rattles and was the reason for this purchase as the child in the portrait is painted holding a fine silver rattle. You just never know!
This sale was the culmination of over three months of work and was a rewarding and enlightening experience. Pridham's is honoured to have been chosen to help yet another prominent Canadian family bring closure to a life of social and artistic importance. We look forward to the next great adventure and sharing it with you, our dedicated Wayback Times readers. In the meantime, don't hesitate to attend an auction near you, or online; it can be very interesting and is one of the best ways to learn about the antique market.
Robin Pridham, owner of Pridham's Auction House in Vankleek Hill, Ontario, is a graduate of Reppert's Auction Business School (Indiana, USA), and a member of the National Auctioneers Association, the Auctioneers Association of Ontario and has 30 years experience buying and selling antiques and art. He is also a guest expert on the television show "Baggage Battles."